Fish Update briefing Friday June 26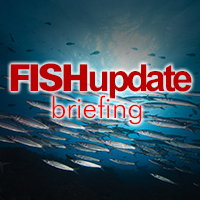 Dead zones found it Atlantic
Researchers have discovered areas with extremely low levels of oxygen in parts of the North Atlantic, several hundred kilometres off the coast of West Africa.
The levels measured in these 'dead zones' are the lowest ever recorded in Atlantic open waters and could lead to huge fish deaths.
These dead zones are unique in that they are created in eddies, swirling masses of water that slowly move westward.
If the open-ocean dead zones encounter an island, say the researchers, they could cause the coast to be flooded with low-oxygen water, potentially leading to mass fish deaths.  The findings are published in Biogesciences Discuss.

Hong Kong urged to eat more sustainable fish
The World Wildlife Fund says hotels and restaurants in Hong Kong are not serving enough sustainable seafood. Hong Kong has one of the world's highest consumptions of fish – four times the global average.
Adam Koo Tze-cheung, CEO of WWF-Hong Kong, told the South China Morning Post that local people should stick to sustainable seafood.
Sustainability is determined by whether particular fish species are being eaten faster than they can grow back, whether or not medicine is used to feed the fish, and whether or not the way the fish are caught damages the environment.
'Globally, many fisheries are in decline and Hong Kong has an important role to play in this matter,' Koo said.
'[We can] change our dining habits and choose sustainable seafood products.'

NZ seafood backs move to save sea lions
The New Zealand seafood industry has come out in support of measures to conserve the Auckland Islands sea lion, Seafood New Zealand chairman George Clement has announced.
His comments follow the International Union for Conservation of Nature (IUCN) upgrading the sea lions' status from vulnerable to endangered.
The decline in the sea lion population at the Auckland Islands has been a cause of concern for some time, although other populations are increasing.

A fish that takes the bite!
A FISHERMAN in New Jersey has reeled in a fish with human style teeth! Ron Rossi caught the weird looking creature, which he has now been told is called a Pacu, and is native to the Amazon basin.
The US Fish and Wildlife Service says it has two rows of molariform teeth, rather like humans.
How it was found so far north is something of a mystery. One theory is that it was kept as a pet and the owner, for some reason, decided to get rid of it. But Pacu fish have been found in US waters before.