Fish Update Briefing, Friday, June 2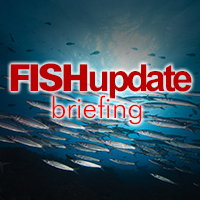 NORWAY SENDS YOUNG SEAFOOD CHEFS TO ITALY
NORDLAND Council in Norway is sending some of its young seafood chefs to a Michelin star restaurant in Italy for a month to improve their cooking skills. The students are from the fishing area around the Lofoten islands and two have already set off on an expenses paid trip, complete with pocket money. They said there was a lot of local seafood on the menu including squid with black pasta to which squid ink was added. They also said they were pleased to be working in such a high quality food environment. Apparently, they were also impressed with the Italian approach to fish cookery.
STRIKE HITS ICELAND FLEET EARNINGS
THE value of the catch by Icelandic vessels was 5.8 billion kroners (£45.5 million) during February which is 53.6 per cent less than in February 2016.  The main reason for the low value is the strike by Icelandic fishermen, which lasted until well into the month. The total value of the catch in the 12-month period from March 2016 to February 2017 was about ISK 29 billion – down by 19.4 per cent on the previous year.
LACK OF FUNDING STOPS SEAFOOD FEST
A LACK of adequate funding has forced the cancellation of the Bridlington Seafood Festival on the Yorkshire coast this year. The event was revived two years ago and attracted thousands of visitors to Britain's leading shellfish port. The decision to cancel the festival was taken with great regret because it had been hugely popular and helped raise the profile of the seafood industry. However, the committee hopes it can be revived in the future.
PROBE INTO HIGH DEATH RATE AMONG WHALES
A TEAM of marine biologists from the US National Oceanic and Atmospheric Administration (NOAA) is to investigate why so many humpback whales have died or been stranded along America's east coast over the past year. The figure since January last year has now reached 41. NOAA says that while humpback whales in Atlantic coastal waters are no longer an endangered species, they are an integral part of the marine environment. So far there is no evidence of infectious diseases or harmful toxins and NOAA points out that some of whales have died after being struck by ships or their propellers. The investigation will look for any changes in the marine habitat which may also affect fish.