Fish Update briefing Friday June 17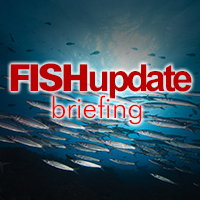 SEAFOOD RESTAURANT CHAIN FOUNDER DIES AT 68
Doug Schmick, co-founder of the US based chain of McCormick & Schmick's seafood restaurants, has died at the age of 68. In 1972, Schmick and William McCormick founded the chain in Oregon. There are now around 60 outlets across the US.  In 2009, Schmick stepped down as chief executive but remained chairman of the board.
'We respect the remarkable impact he had on the restaurant industry and his role in co-founding McCormick & Schmick's,' said Howard Cole, chief operating officer and senior vice president of Landry's Inc, which now owns McCormick and Schmick.  Doug Schmick's wife of 45 years, Melanie, who he met at university, died about 18 months ago.
SHARE BONUS FOR BAKKAFROST STAFF
All of Bakkafrost's full time employees who were with the company last year are to receive shares worth two per cent of their paid out salary, the Faroese fish farmer has announced. In total, Bakkafrost has allocated 16,484 shares to its employees, including the shares to the primary insiders, as a bonus to the employees for 2015. CEO Regin Jacobsen receives 150 shares and chief financial officer Gunnar Nielsen receives 90 shares. The share prices at close of business on the Oslo Stock Exchange yesterday stood at 301.70 Norwegian kroners (NOK)
IRELAND SEEKS TOP FISHERMEN AND FISH FARMERS
The Irish Seafood Development agency Bord Iascaigh Mhara (BIM) has announced a new set of fishing and seafood awards.  Their aim will be to find the best fishermen and fish farmers and the country's top processors and retailers. The awards are now open for entries and the winners will be announced at a gala evening in Dublin in November. BIM chief executive Tara McCarthy said the awards would help to promote and highlight some of the best people and enterprises in this industry.

SAUCY FISH SIGNS DIETICIAN DR SARAH SCHENKER
The Saucy Fish Co is continuing to build on its cool image by teaming up with leading dietician and nutritionist Dr Sarah Schenker. She will be working alongside the Saucy Fish team  as their official dietician, providing an authoritative voice on the benefits of eating fish as part of a healthy balanced diet. She will also be encouraging and inspiring the public to eat more fish – and eat it more often.  Schenker regularly appears on TV shows and in national newspapers with her comments on diets and healthy eating. She has also publicly endorsed the benefits of eating fish for many years. The Saucy Fish Co, owned by Grimsby based Icelandic Seachill, said she would bring a wealth of knowledge to the partnership.