Fish Update Briefing Friday July 3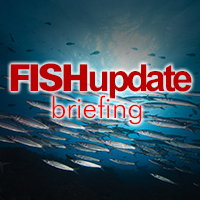 THERE is fish for free in North Carolina tomorrow – July 4, American Independence Day. But only if you catch it yourself. Residents of the state can fish in any public body of water – coastal or inland – without purchasing a fishing licence or an additional trout licence. Free fishing day has become something of a tradition in North Carolina on July 4 and many people do take up the offer. People are also given free fishing maps.

Seafood executive in key move
ICELANDIC Seachill, which produces the successful Saucy Fish range, has recruited former Findus and Young's Seafood executive Andrew Rutherford. He joins the company from the Boparan group which owns Five Star Fish of Grimsby and 2 Sisters poultry.
He has spent his whole career working in the seafood and food industry, including a number of roles at Young's Findus Group. Icelandic Seachill managing director Simon Smith said Rutherford brings with him not only great knowledge, skills and experience, but a real passion for the fish and seafood industry.
This new appointment comes as current finance director, Richard Bales, announces his plans for retirement. Bales will remain in the business until April 2016.

Super seiner makes its debut
A NEW super purse seiner, the Kvannøy, and  built at Karstensens Skipsværft in Skagen in Denmark, was blessed in its home port of Bodo, Norway, this week prior to its maiden trip. The 78m long vessel has blue whiting rights.
Built for Hansen Dahl Fisheries of Bodo, the design offers the crew greatly improved working conditions and comfort as well as the latest technology. The design also focuses on three thrusters, low-speed auxiliary engines and a hybrid propulsion system.

Successful trip for refit trawler
JUST a year after a major refit in Poland, the Icelandic trawler Helga Maria has completed a highly successful trip with a catch of 160 tons of mainly high quality redfish. But its skipper, Heimir Guðbjörnsson, said they were also after saithe and this species was playing hard to get.
Owned by the company HB Grandi, the Helga María was extensively refitted in Poland  in 2014 and converted from a factory vessel into a fresher trawler. Skipper Guðbjörnsson said that the refit was very successful and he is satisfied with the ship's new role, not least with the equipment installed for chilling the catch, that has performed very well.