Fish Update Briefing Friday January 8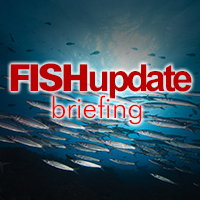 JAWS ENCOUNTER SHOCKS FISHERMEN
A GROUP of Florida fishermen had the shock of their lives when their catch was stolen by a great white shark – the type which featured in the film Jaws.
The encounter took place off Jacksonville's coast and a video film shows the estimated 12ft long shark circling after taking a bite out of a red snapper.
One of the men on the Jackson Fishing Charters boat is heard joking to a friend: 'Do you want to go swimming?' He politely declines the offer. The shark eventually swam away.
IRISH EYES SMILING ON SEAFOOD
IRELAND is looking forward to a big expansion of its fishing and fish farming industries this year, partly thanks to higher whitefish quotas. The country has also announced a four-year €241 million development programme for the seafood sector.
A further €30 million has been set aside for the development of Ireland's aquaculture industry.
Agriculture, Food, and Marine Minister Simon Coveney said the outcome was very positive for the industry in light of the quotas that had been proposed by the European Commission. Fishing and seafood is now worth €850 million a year to the country but that figure is likely to rise to a billion euros and more within the next few years.
STRESS FREE FISH 'STAY FRESHER LONGER'
STRESS may play a part of how long a fish stays fresh in the store, and also as to how it tastes. Food Science Magazine reports that fish caught while in a state of stress have a shorter shelf life than those who are netted quickly and without much pain.
A team compared two groups of rainbow trout. Fish in the first group died from a swift strike to the head. In the second group, lingering asphyxiation above water—a common practice—killed them.
After 75 days in the freezer, fatty acids like omega-3— the heart-healthy chemicals that attract so many people to consume fish—started to break down in the fillets from stressed out trout.
THE FISHY WAY TO LOSE WEIGHT
EATEN too much this Christmas? If so, the way to lose weight could be found in adding certain types of fish to a New Year diet. Researchers in Japan have found that Omega-3 fish oil of the type found in salmon and sardines can help reduce the amount of unwanted fat.
The Japanese research centred around two types of body fat. They found that the Omega-3 oil turned bad fat cells into healthy cells, which are able to burn off extra calories and can eventually lead to weight reduction – provided people keep a watch on other foods they eat.