Fish Update Briefing Friday, January 6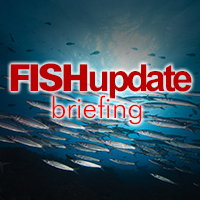 FISH HOOKS MAN!
IN a bizarre twist to the story of the 'one that almost got away', an Australian fisherman was dragged into the sea by a huge marlin and only survived by treading water. The fisherman hooked the would be predator about 30 nautical miles off the remote North West Cape. Another fisherman spotted the man's empty boat travelling at speed and alerted authorities. The man, believed to be in his 20s, was plucked from the water after several boats joined the search. Rescuers said the man was incredibly lucky to survive after being found in 'the middle of nowhere'. The fisherman, originally from New Zealand, was treated for hypothermia and shock.
CRAB FISHERMEN STRIKE
CRAB fishermen along the US west coast, including San Francisco, have gone on strike. They took the action against Pacific Choice Seafood, claiming it had dropped prices by up to 25 cents per pound for Dungeness crab. The crabbing industry trade group said there would be no crabbing from any west coast port between Bodega Bay and the Canadian border while the present situation continued.
ANGER AT DEAD FISH IN ICE RINK
AN ice  rink in  Japan with about 5,000 dead fish packed into its ice has brought an angry reaction from many of its  customers. The Space World amusement park at the Space World theme park in Kitakyushu, in the west of the country, was forced to close its doors after about 25 different kinds of dead fish were frozen into the ice along its 250m-long circuit. It is reported that the fish were already dead prior to being frozen into the rink and that the amusement park will hold a mass for the fish before replacing the ice. 
TUNA FETCHES £500,000
A SUSHI chain owner has paid  US$632,000  (about £500,000) for a 466-pound bluefin tuna at auction in Tokyo fish market this week.The 74.2 million yen winning bid for the prized species was the second highest ever after a record 155.4 million yen bid in 2013 at the annual New Year auction at the famed Tsukiji market. The market is due to be rebuilt  to make way for a road to the new Tokyo Olympic stadium and this type of large bid could be the last at this famous fish centre before it is relocated.