Fish Update Briefing Friday January 29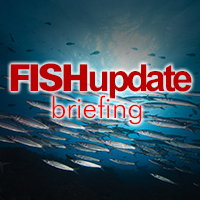 UNDERSEA THREAT TO HEALTH
GERMAN researchers have warned that eating fish that have taken in microplastics could pose a risk to health. Biologists at the Alfred Wegener Institute's Helmholtz Centre for Polar and Marine Research said the risk largely depends on the type of fish as not every species consumes this material.
They looked at the stomachs of mackerel, flounder, herring, cod and yellowfin sole caught on the North German coast. Their examination found that mackerel consumed plastics at far higher levels than fish that spend more of their time close to the seafloor, such as flinder and sole.
FISH IN COMEBACK FROM THE DEAD?
A VIDEO showing a frozen fish coming back to life has gone viral on the internet. But no one is yet sure if it is a fake or the real thing. The two-minute film shows the fish being taken out of a freezer and then put into a bowl of hot water with another fish. The fish slowly starts to defrost and then its fins begin moving before it is eventually seen swimming.
The video, which was uploaded on Facebook last week, has so far attracted 45 million hits. Some viewers have suggested the whole thing is a fake while others have said they have seen fish come back to life in this way before.
COLD SNAP HITS ASIAN FISH FARMS
A SEVERE cold snap seriously damaged some fish farms in Taiwan this week. The damage has prompted the government to act to ensure there will be sufficient supplies of fresh seafood prior to the country's Lunar New Year celebrations.
It is thought to be Taiwan's coldest period for more than a decade. Fruit and vegetable farms have also been badly hit by the freeze. In the aquaculture sector, damage to clams and milkfish was visible, and the authorities expect that Taiwan's tilapia and striped bass farms will also have suffered losses.
SHARKS AT RISK FROM FISHING
FISHING quotas might be needed to protect threatened species of sharks in the North Atlantic which feed in the same areas that fishing vessels target, according to new research.
The study, published in Proceedings of the National Academy of Sciences of the USA, used GPS tracking on fishing boats and sharks and found significant overlap between hotspots of oceanic shark movements and fishing activity.
The researchers, from the UK, Portugal, Spain and the US, tracked more than 100 sharks from six different species by satellite across the north Atlantic, one of the most heavily exploited oceans, while also tracking 186 Spanish and Portuguese longline fishing vessels.
For the most heavily fished shark species, blue and mako, about 80 per cent of the sharks' tracked range overlapped with the fishing vessels' range, with some individual sharks remaining near to longlines for more than 60 per cent of the time they were tracked.