Fish Update Briefing, Friday, January 18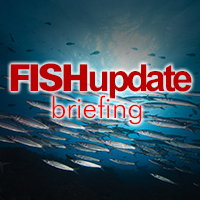 GRIMSBY HOSTS SEAFOOD CAREERS EVENT
AN event which aims to give young people an insight into the diverse range of careers within the seafood and general food sector is taking place in Grimsby next month. Titled the Future of Food, it is organised and co-ordinated by the Grimsby Institute and Seafish. Some of the biggest food employers in the Humber region will be exhibiting at the event, including Young's Seafood, Seachill, New England Seafood and Morrisons, which has a fish processing factory in the town. Now in its third year, the event – on Thursday, February 14 – will be held at the Grimsby Institute and will showcase a wide range of career opportunities, as well as the benefits associated with a career in the food sector. Open to local schools, pupils will have the opportunity to talk to a variety of employers to find out how they can get into the industry.
ICELAND FLEET CATCHES MORE COD
ICELAND caught a total of 1,259,000 tonnes of fish of all types last year, an increase of 82,000 tonnes on 2017. The increase is down to a higher haul of demersal fish (cod, haddock and so on) and increased catches of blue whiting, said Statistics Iceland. Cod is Iceland's most valuable export stock and the catch rose by nine per cent in 2018 to 274,909 tonnes. Haddock catches rose 34 per cent to 48,661 tonnes. Flatfish and shellfish catches rose by 24 per cent and 20 per cent respectively. The pelagic fleet caught a total of 738,000 tonnes, up by three per cent.
BOOKIE TAKING BETS ON FISH RATIONING
THE Irish bookmaker Paddy Power is taking bets on fish and other foods being rationed if there is a no deal Brexit. Punters can get 25-1 on fish and 11-1 on food in general being rationed by the government. Food rationing in the UK, which began at the outbreak of World War Two, finally ended 65 years ago. Ironically, despite the threat to trawlers from U-boats, fish was never rationed although there were strict allocation controls on its sale and distribution.
RARE LOBSTER SAVED FROM POT
A SEAFOOD distribution firm has saved a rare orange and black lobster from the pot because it wants it to be viewed rather than eaten. Ocean City Seafood of Silver Spring, Maryland, was unloading a shipment from Maine last month when the owner found the highly unusual 'calico' lobster. Lobsters usually have dark blue or greenish-brown shells. The University of Maine's Lobster Institute said calico lobsters occur about once in every 30 million lobsters. Ocean City Seafood spokeswoman Rita Montoya told The Baltimore Sun that the lobster is now in a special tank until it can be relocated, possibly to an aquarium. A spokeswoman for the Georgia Aquarium confirmed that the aquarium is in the 'early planning stages of possibly caring for the lobster'.