Fish Update Briefing, Friday, January 12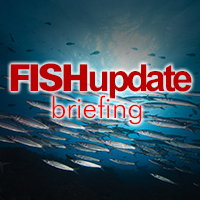 CIAO TO NEW CAPTAIN BIRDS EYE
AN Italian born actor is to be the new Captain Birds Eye. Riccardo Acerbi, 56, is the first foreigner to take on one of UK television's best known advertising roles. The company is believed to want to evolve the captain into a more contemporary character. But the move has not gone down well on social media, with one diner posting the message: 'Come on Brexiteers let's get our Birds Eye back!' However, noted for his rugged good looks and sporting prowess, Acerbi, who is from the Lazio region near Rome, landed the role after rigorous auditions and the company said he impressed the judging panel. The original Captain Birds Eye, John Hewer, appeared on TV screens between 1967 and 1998. He died in 2008, aged 86. There have been five other 'captains' since then.

SEAFOOD TYCOONS AMONG LATEST BILLIONAIRES
TWO seafood tycoons are among the world's richest people, according to a New Year report from Bloomberg Business. The Bloomberg Billionaires Index says the 500 richest people on the planet were worth more than $5 trillion and became $1 trillion richer during 2017, as a further 67 billionaires were added to the list. These newcomers included fish billionaires Vitaly Orlov of Russia and Chuck Bundrant of Trident Seafood, based in New York, who both ranked alongside bitcoin investors Tyler and Cameron Winkelvoss

EU CHARTERS FISHERY PATROL BOAT
FOR the first time, the European Fisheries Control Agency (EFCA) has chartered a fishery protection vessel, the AEGIS I, which is now patrolling the Adriatic Sea as part of a joint deployment plan for the Mediterranean. The agency is collaborating with authorities from Greece, Italy and Croatia who will have inspectors on board the vessel, and their main purpose is to monitor and carry out inspections on fishing vessels engaged in the fishing of small pelagic species, bluefin tuna and swordfish.

TOKYO FISH MARKET CELEBRATES FINAL NEW YEAR
TOKYO'S famous Tsukiji fish market has held its last pre-dawn New Year's auction before closing down for relocation, with the highest bidder paying $320,000 for a 405kg bluefin tuna. After more than 80 years in operation, the world's biggest fish market, a popular tourist attraction in an area packed with restaurants and shops, will move to Toyosu, a former gas plant a bit further east of the city, in the autumn. The market, which opened in 1935, is best known for its pre-dawn daily auctions of tuna, caught from all corners of the ocean, for use by everyone from top Michelin star sushi chefs to grocery stores.