Fish Update Briefing, Friday, February 8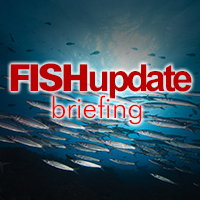 GRIEG INVESTS IN NEW LOW CARBON PLANTS
GRIEG Seafood is to buy four new battery powered hybrid plants for its feed vessels as it looks to increase its environmental footprint by cutting down on diesel use. The plants, which hugely reduce diesel generator operations, have been specially developed by Fjord Maritime, based in Bergen, with the aquaculture sector in mind. Although it is a 10-year investment plan, Grieg believes it may be able recover the outlay in as little time as three to four years.
ICELAND FISH CHIEF TO HEAD AQUACULTURE BUSINESS
THE Icelandic fish farming company Laxa Aquaculture has appointed Jens Garðar Helgason, chairman of the country's Confederation of Fishery Companies (SFS), as its managing director. Helgason, who holds an MBA in seafood management, has considerable export experience. The activities of Laxa Aquaculture, which employs 35 people, have increased significantly in recent months and the company now has four generations of salmon under various stages of cultivation.
TRUMP URGED TO BAN NZ FISH IMPORTS
THE marine conservation organisation Sea Shepherd has called on the Trump administration to ban all fish imports from New Zealand, claiming the country is driving the Māui dolphin to extinction. It says the Māui population has become a victim of by-catch by vessels using gill nets and trawls and is now the most endangered species of dolphin in the world. The Scientific Committee of the International Whaling Commission (IWC) estimates that there are barely more than 50 Māui dolphins remaining — down from approximately 2,000 in 1971. It says that unless action is taken immediately, the Māui dolphin will disappear for good. The US is being approached because the country has a law which allows it to take action against the by-catch of marine mammals anywhere in the world.
FISH DISCOVERY BRINGS FEAR OF DOOM
JAPANESE fishermen are becoming nervous because three giant oarfish have been washed up on the country's shores. In Japanese mythology oarfish are a sign that a natural disaster such as an earthquake or a tsunami could be about to strike. The three oarfish were found on the north coast of Japan, bringing the total discovery in recent weeks to seven. Apparently, a dozen such fish were washed up a few months before the 2011 earthquake and tsunami which killed more than 18,000 people and resulted in the destruction of a coastal nuclear power station which severely affected Japan's fishing industry. Japan is one of the most earthquake prone countries in the word.