Fish Update briefing Friday February 6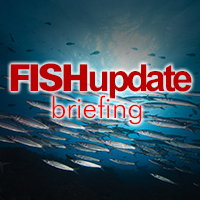 Girl, 6, dies after piranha attack
A SIX-year-old Brazilian girl has died after being attacked by a shoal of piranha fish when the canoe in which she was travelling capsized.
The girl, named as Adrila Muniz by Brazilian news channel Globo, was with four other children and her grandmother in the boat during a family holiday.
The boat overturned in poor weather and the youngsters were thrown into the water.  The others were saved by the grandmother, but the girl was not reached in time and a pool of blood and a shoal of piranha s were spotted around her.

Hand held machine can detect fraud
IS IT what is says on the label? That is the question many people who buy seafood ask themselves these days.
But scientists from the University of South Florida's College of Marine Science have developed a hand held sensor capable of establishing whether fish is as described.
Fish fraud is a major issue in Britain, but more so in the United States where it is estimated that up to 30 per cent is mislabelled.
John Paul, a biological oceanographer at the university, said: 'Using the hand held device, a complete field assay, potentially carried out at the point of purchase, requires fewer than 45 minutes for completion and can be performed entirely outside of the lab.'

No fish before flights say pilots
PILOTS with the private air carrier Jet Airways agreed to forgo eating seafood 12 hours before departure on both domestic and international flights and to abstain from alcohol for seven days as part of a novel way to observe Air Safety Week.
The reason for not consuming alcohol is fairly obvious, but giving up seafood might raise a few eyebrows.
However, certain types of seafood can cause severe food poisoning problems.

Chinese group lists on London stock exchange
THE Chinese seafood supplier and processor known as the Aquatic Foods Group is planning to  list on the London stock exchange's small-cap market AIM.
Aquatic Foods said in a statement it expects to have a  market capitalisation of around £79 million (US$119 million).
The South China Morning Post said the company runs two brands of seafood that it sells to local and international markets separately, and said it would use the funds from the listing to bolster its processing capabilities and expand product distributor networks in China.