Fish Update briefing Friday, February 17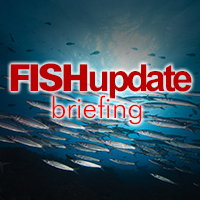 ICELAND FISHING FLEET SHRINKS
THE  Icelandic fishing fleet is getting smaller, according to the latest government  statistics. A total of 1,647 fishing vessels were registered at the Icelandic Transport Authority at the end of 2016, which is 16 ships fewer than in the previous year. The number of decked vessels was 747 and their combined size was 94,506 gross tonnages (GT).The number of decked vessels reduced by nine  last year  while the total size increased by 2,439 gross tonnes. The number of trawlers was 43 at the end of 2016 and their total size amounted to 52,416 GT. About 24% of the vessels were registered in the Westfjords, a total of 396 ships. Eight trawlers were registered in the Capital region and nine in the Northeast.
SEAFOOD SHACK HEADING TO ESSEX?
THE US inspired Seafood Shack chain is about to expand into the English county of Essex. The company has confirmed it is looking at the region although it has yet to decide what town it will choose. However, Southend with its seaside town reputation for fish and chips would have to be among the favourites. Modelled on the popular seafront shacks found in Florida and California, the chain  serves a large range of seafood dishes in an open theatre style kitchen
SOUTH KOREANS TOP FISH EATERS
SOUTH Koreans eat more seafood than almost any other country, according to a report by the State of World Fisheries and Aquaculture organisation from the United Nations FAO.  The country eats an average of 54.8 kilograms per head. Norway came second at 53.3 kg followed by Japan at 50.2 kg and China at 39.5 kg. Europeans were way down the list at 22 kg and Americans only slightly higher at 23.7 kg. The report says global consumption will continue to rise, with Asia in the lead.
MILLION DOLLAR TRAWLER SOLD
The Icelandic fishing company HB Grandi has sold the trawler Lundey, one of its older pelagic vessels, to Norway for (US)  $1.1 million or 124 million kroners. The buyer is the fishing company Partrdiet Karolos ANS. The Lundey was built in Regensburg, Germany, in 1960. HB Grandi is currently modernising its fishing fleet with a series of new build vessels from Turkey.
 
.