Fish Update Briefing, Friday, December 8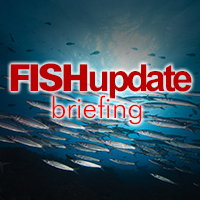 WALMART OPENs UP ON SEAFOOD SOURCING
WALMART has joined the Ocean Disclosure Project (OCP), which promises to give more details about the way seafood is sourced. The data to be shown on the OCP portal could include the locations where Walmart obtains its wild caught seafood, as well as the gear types used to acquire that catch. Fisheries management information, environmental impacts, certifications, and fishery improvement data could also be featured on Walmart's OCP public profile page. Walmart, which is the world's third largest employer, with a staff of more than two million people worldwide, said it was excited to be taking part in the project.
PRAWNS FOUND IN 'VEGGIE' ROLLS
SAINSBURY'S has recalled a consignment of vegetable spring rolls after they were found to contain prawns, posing a possible risk to people with an allergy to seafood. The company has asked anyone who bought the Sainsbury's own label 10 vegetable spring roll selection (210 grammes) with  a use-by date of up to December 8 to return them to the store for a refund. A spokesman at Sainsbury's said: 'If you have bought the above product and have an allergy to crustaceans, do not eat it. Instead return it to the store from where it was bought for a full refund.'
ICELANDIC TRAWLER HEADS TO SOUTH AFRICA
THE Icelandic freezer trawler Therney has left its former home port of Reykjavik to begin the long voyage to its new owners in South Africa.  The company HB Grandi has sold Therney to Sea Harvest Corporation in South Africa for $13.50 million, equivalent to ISK1.4 billion. Therney has been a highly successful trawler for HB Grandi. It was built in Norway in 1992 and has been operated by the company since it came to Iceland in 1993. Meanwhile, HB Grandi is about to take delivery of its new wetfish trawler, Viðey, which was recently completed in Turkey. Viðey is expected to arrive in Reykjavík before Christmas.
MAN DIES JUMPING BETWEEN FISHING BOATS
AN eighteen-year-old Danish man has died after attempting to jump from fishing boat to fishing boat to a dock at the harbour in Thyborøn, Jutland. He hit the head of the pier and fell into the sea, according to the shipping authorities in the town. A few minutes after he fell in, he was rescued, unconscious, and flown to hospital by helicopter, where he was finally pronounced dead. The accident is now under investigation and the authorities are also looking at whether hygiene and safety rules have been broken.