Fish Update Briefing Friday August 5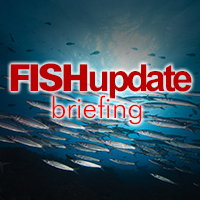 SEAFOOD GALORE AT RIO GAMES
MORE than 350,000 portions of responsibly sourced seafood will be served to athletes and media representatives during the Rio Olympic Games, with fish being seen as the ultimate healthy food. The Olympic organising committee also believes it will help Brazil's own fishing industry improve its standards. Athletes in Brazil are expected to consume more than 70 tonnes of seafood over the two-week Games (which start tonight) from fisheries or fish farms that meet guidelines set by the Marine Fisheries Council (MSC) or the Aquaculture Stewardship Council (ASC).
OBAMA'S DAUGHTER LANDS FRIED FISH SHOP JOB
SASHA Obama, the 15-year-old daughter of the US president, has taken a summer job serving up fried fish at the Oak Bluff seafood restaurant in Martha's Vineyard. Her duties include working at the takeout counter, cleaning tables, and preparing lunch. Her mother, Michelle Obama, has said in the past that she wants her daughters to grow up as normal teenagers, as well as appreciating the value of hard work. Sasha, who is employed under her full name of Natasha, usually works a four-hour shift in the morning.
FEAST FOR FREE AT SEAFOOD FEST
The northern Icelandic community of Dalvik is holding its big annual fish festival this weekend when it celebrates its most valuable export. Seafood producers lay on a free seafood buffet and the event is boosted by concerts, musical shows and fireworks. Tradition has it that visitors to the town can go into people's homes if they see two flaming torches burning outside. The festival attracts many visitors and with this year's quota drawing to a close – the new season starts on September 1 – many fishermen are at home or on holiday, adding to the atmosphere of the festival.
SEAWEED – THE NEW VOGUE IN SEAFOOD
THE South Korean government is promoting an unusual form of seafood – dried seaweed – at a Chinese beer festival as part of its efforts to export the indigenous seafood snack abroad. The Ministry of Oceans and Fisheries said it is discussing with local beer manufacturers to provide the dried seaweed snack, known as 'gim' in Korean, to the Qingdao International Beer Festival next month. The ministry aims to promote the seaweed as going well with beer, on the back of the increasing popularity of the snack overseas. Exports of seaweed have increased over the past few years and are thought to be worth $380 million a year.