Fish Update Briefing, Friday, August 4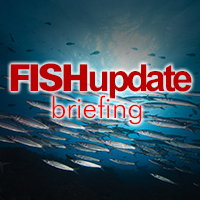 OIL POLLUTION A THREAT TO SEAFOOD
LIMITING industrial pollution such as petroleum based oil could be the key to preserving fish and marine life ecosystems like the Great Barrier Reef, a new study has suggested. The research found the presence of oil substances caused six fish species that inhabit the Queensland reef to engage in risky behaviour. The Australian Research Council's Centre of Excellence for Coral Reef Studies co-author Jodie Rummer said fish were unable to identify 'friend from foe' and they stopped travelling in groups. 'The fishes also had trouble selecting suitable habitats and could not swim away quickly from danger,' she said. The study found that concentrations of oil equivalent to a couple of drops in a swimming pool could have an impact on decision making.
FISH THE KEY TO BEATING BOWEL CANCER
EATING plenty of fish along with fresh fruit can go a long way towards preventing bowel cancer, new research reveals. Individually, each dietary change reduces the risk of developing pre-cancerous colorectal polyps by more than 30 per cent, according to researchers from Tel Aviv Medical Centre in Israel. The results further revealed that eating just two or three foods typical of a Mediterranean diet halves the risk of developing polyps. Colorectal cancer is associated with a low-fibre diet with large amounts of red meat, alcohol and high-calorie foods.
PLASTICS FOUND IN FISH EATEN BY HUMANS
PLASTIC micro particles are getting into the flesh of fish eaten by humans, it has been revealed. A team of scientists from Malaysia and France discovered a total of 36 tiny pieces of plastic in the bodies of 120 samples of mackerel, anchovies, mullets and croakers. They warned that as plastic attracts toxins in the environment, these poisons could be released into people's bodies after they ate the fish. The plastics found included nylon, polystyrene and polyethylene. Writing in the journal Scientific Reports, the researchers said: 'The widespread distribution of micro plastics in aquatic bodies has subsequently contaminated a diverse range of aquatic biota, including those sold for human consumption such as shellfish and mussels. Therefore, seafood products could be a major route of human exposure to micro plastics.'
IRISH SEAFOOD FIRMS SHARE €1.2m
A TOTAL 13 seafood firms in Ireland are to share more than three million euros in grants to help them with various projects. The largest amount – €1.2 million – has gone to the Foyle Fishermen's Co-operative. The projects being financed are the first of their type to be approved under the European Marine Fisheries Fund (EMFF) Sustainable Fisheries Scheme, which aims to support fishermen, co-operatives and processors to implement the landing obligation.