Fish Update Briefing, Friday, August 31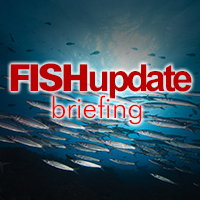 'DON'T EAT CRABS' BILLBOARD SHOCKS US CITY
THE animal rights group PETA has caused a stir in Baltimore by posting a dramatic billboard in the US city centre which shows a picture of a crab with the message: 'I'm ME, Not MEAT. Go Vegan.' The organisation says the billboard was deliberately placed near Inner Harbour area seafood restaurants and will be in place for the Baltimore Seafood Festival on September 15. But it has not gone down well in those regions of the United States where crab fishing is an important industry. PETA says it is part of a nationwide campaign urging diners 'to leave crabs and other sea animals off dinner plates and in their aquatic homes'.
NORTH KOREA 'DODGES SANCTIONS' WITH OFFSHORE FARMS
NORTH Korea is getting around UN sanctions which prohibit the export of seafood by setting up scallop farms offshore, according to radio Free Asia's South Korean Service. It says the farms, which are run by the North Korean military, were established three months ago in waters off the port districts of South Hamgyong province's Hamhung city. The scallops will be ready to export by next summer, earning valuable currency for the rogue state. China is likely to be one of the main customers, but they may also be sold to non communist countries through various agencies.
UK CHIPPY OPENS JUST SIX HOURS A WEEK
A CHIPPY in Lincolnshire has become such a success that its owner only opens for six hours a week. Measuring just 70 square feet and run by Sally Shaw, the Upton Fish and Chip Shop in the town of Gainsborough uses a large, old fashioned coal fired range of a type which has almost disappeared in the UK. The shop attracts customers from 50 miles away, with one arriving in a private plane to sample the fare. The takeaway, which has been in business for 70 years, is only open on Friday evenings and Saturday lunchtimes and shuts down totally during the month of January because Shaw says that is when many people go on diets.
INFECTED SEAFOOD COSTS MAN LEFT FOREARM
A 71-year-old South Korean man has lost his left forearm after eating seafood believed to have been infected with a life-threatening bacteria. Just 12 hours after the meal he went down in severe pain as his left hand started to swell, says a report in the New England Journal of Medicine. He was taken to a hospital in Jeonju, where he was found to be suffering from a Vibrio vulnificus infection. Doctors performed emergency surgery to drain the blister and save his life. After surgery, the patient was treated with antibiotics but his skin lesions developed into necrotic ulcers and his left forearm was eventually amputated. Vibrio vulnificus infections are said to be a persistent public health threat in some Asian countries.