Fish Update briefing Friday August 28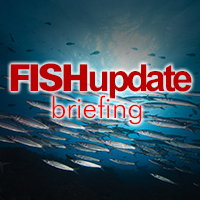 MICRO FISH MAY SWIM IN HUMAN BODY
THE thought of fish swimming inside the human body may not appeal to everyone. But researchers at the University of California in San Diego believe that the day is not far off when 3D-printed fish-shaped microbots — called microfish — could one day transport drugs to specific places in the body and be able to sense and remove toxins.
These microfish, smaller than the width of a human hair, are groundbreaking for two reasons: they're simple to create, but remarkably high-tech in what they can do, doubling as toxin sensors and detoxifying robots, according to researchers at the University of California.
Researchers used a high-resolution 3-D printing technology called microscale continuous optical printing to create the microfish. The custom computer aided design (CAD) programme used could allow researchers to experiment with other shapes, such as sharks or birds, in the future.
FISH OIL 'DOES NOT HELP ELDERLY'
FISH oil supplements, which are high in omega-3 fatty acids, do not protect against mental decline among the elderly despite common belief, says a new study which looked at more than 4,000 people.
The five-year clinical trial, published in the Journal of the American Medical Association, is 'one of the largest and longest of its kind', according to a statement from the US National Institutes of Health, which funded the research.
'Contrary to popular belief, we didn't see any benefit of omega-3 supplements for stopping cognitive decline,' said study author Emily Chew, deputy clinical director at the National Eye Institute, which is part of the NIH.
FINDUS SALES CONTINUE TO GROW
FINDUS Group, which currently includes Young's Seafood, has continued to deliver strong performance in challenging markets, through the third quarter of the financial year which ends next month.
This is the sixth consecutive quarter of top and bottom line growth, with sales for the third quarter up 1.3 per cent and EBITDA up 9.8 per cent on last year, said Findus chief executive James Hill.
Findus is currently in negotiations to sells its Scandinavian and European business to Nomad Foods, which recent bought Iglo, owners of Birds Eye in the UK.
Young's is not involved and will continue to remain part of Findus, at least for the time being.
AIR FORCE BASE MAY BECOME SEAFOOD HUB
A ROYAL Australian Air Force base near Adelaide in Australia could become a hub for exporting seafood into China.
Gillian Aldridge, the mayor of a town called Edinburgh, where the base is located, is talking to the state governor and the military authorities about using the site to fly fish, fruit and vegetables to be sold in Chinese wholesale markets.
RAAF Edinburgh is currently home to a squadron of maritime patrol aircraft and units of the RAAF regiment.
The mayor said the nearest civilian base was too small for large consignments of seafood.