Fish Update Briefing Friday, August 26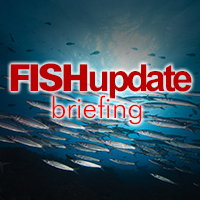 FISH SKILLS ON DISPLAY ON HUMBER
THE British Fish Craft Championships returns to the Grimsby area this weekend. For three days over the Bank Holiday scores of filleters and other fish workers will be showing off their skills as they bid for the winning title. The event is organised by the National Federation of Fishmongers and this is the third time this prestigious event has come to Grimsby's neighbouring seaside resort of Cleethorpes. Chief organiser Gary Hooper said: 'The reason we have come back to this area is largely due to the support we have received from the local council and from local companies such as Flatfish and Icelandic Seachill.'  The event was won last year by Gary's son George and he is defending the title again.
FISH SMUGGLERS ARRESTED
CHINESE customs officials have arrested a group of people for allegedly smuggling potentially radiation-tainted seafood from the Fukushima atomic power plant in Japan, damaged in an earthquake and tsunami in 2011. The officials claim that almost 5,000 tonnes of expensive seafood such as king crab and scallops, worth a total of 230 million yuan (HK$269 million), had been illegally imported by a company based in Shandong province and sold across the country over the past two years. Some of the products were from waters near Fukushima, where there was a radiation leak after the earthquake. It is still illegal in China to import fish from the power station region.
SAFETY CALL AFTER FISHING DEATHS
A CALL has gone out to improve fishing boat safety in Canada after three people were lost in a tragedy off the coast of Newfoundland. Around 190 Canadian fishermen have died since 2000. The Canadian Transportation Safety Board said the culture of safety must be improved as it released a report into the Newfoundland accident, which involved a small open fishing vessel fishing for crabs in Placentia Bay off Newfoundland. The board said the tragedy near Placentia Bay demonstrates the need for increased regulations around fishing safety and a change of attitudes among fishermen.
LEROY BID WINS STATE APPROVAL
NORWAY'S Ministry of Fisheries has formally approved a proposal by Leroy Seafoods to acquire Norway Seafoods and the trawler owning company Havfisk.  Lerøy says it is still awaiting the approval from the relevant competition authorities before completing the transactions. A completion of the sale of Havfisk, which has a fleet of at least 10 vessels, will trigger a mandatory offer for the remaining shares in Havfisk at NOK 36.50 per share. Assuming completion of the transaction, Lerøy says it also intends to make an offer for the remaining shares in Norway Seafoods at NOK 1.0 per share.