Fish Update Briefing Friday August 21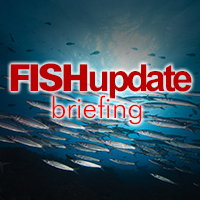 NORWAY INVITE FOR BRITISH CHIPPIES

THE Norwegian Seafood Council in close cooperation with the country's fishing industry is again inviting British fish and chip owners to the port of Alesund to learn more about the country's sustainable fishing policy.
In late October, 10 regional winners in the competition bidding for this year's Best Fish and Chip title will pay a visit to Norway. It will include a tour of a modern trawler to get an insight into the production of fish fillets, which fit well with UK fish and chip shop needs, along with lectures and meetings with representatives from the industry. Such visits have now become a tradition.

SOME TURKISH STOCKS UNDER THREAT
TURKEY'S wild fish count has fallen over the past 10 years by around 30 per cent for a large number of species. At least one species is in danger of extinction. Excessive fishing is blamed.
The amount of species caught in 2005 was 334,248 tonnes, but this amount dropped by 30 per cent to 231,000 tonnes in 2014, the state-run Anadolu Agency reported, sourcing the Turkish Statistical Institute's (TurkStat) data on marine products in 2014.
Mullets caught totalled 10,560 tonnes in 2015, while the amount caught in 2014 was only 721 tonnes.
'Turbot fishing should be prohibited and turbot should be protected,' said Middle East Technical University Marine Sciences Professor Ali Cemal Gücü.
'Even an international project should be jointly developed for turbot protection by Turkey, Ukraine and Romania.'

FISH OILS MAY HELP IN MENTAL HEALTH FIGHT

OMEGA-3 fatty acids of the type found in oily fish could help to reduce the long term risk of developing serious psychotic illnesses such as schizophrenia.
Paul Amminger of the University of Melbourne in Australia and his team tested just over 80 people at risk of developing such conditions. Just over half were given fish oil supplements while the remainder were given a placebo. Only two people in the first category developed a psychotic condition while 16 in the placebo group did. More research is likely to be carried out.
SPANISH BEACH CLOSED AFTER FISH ATTACK
A BEACH in the popular Spanish resort of Benidorm has been closed temporarily after a 10-year-old boy was bitten by an unidentified fish.
The incident led to rumours that a shark was in the area, but there is nothing to substantiate this. Shark attacks in the Mediterranean are quite uncommon.
The boy was wearing goggles and swimming in the sea when he spotted the two metre fish. Intrigued, he reached out to touch it, and received a bite above the waist for his trouble.
Beach goers were ordered out of the water while coastguards searched for the brute in the water off Benidorm's Poniente Beach. But the 'greyish-green' fish was not found and the beach was re-opened. Marine biologists will try to identify the mystery fish.