Fish Update briefing Friday August 19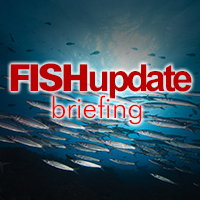 SUPPORT MOVE FOR IRISH SEAFOOD
THE Irish seafood organisation, Bord Iascaigh Mhara (BIM), has announced plans to establish a Domestic Seafood Council to support the country's processors. Recent high price increases have worsened trading conditions on the salmon market. From 2015 to 2016, the average fresh import price of salmon increased by 23 per cent while the average retail price went up by only three per cent. Donal Buckley, BIM's director of business development and innovation, said: 'We will establish a Domestic Seafood Council with seafood processors in order to find solutions and pool resources to mitigate the risk of trading in this sector. BIM will provide funding and support to the council.'
ICELAND'S ANTI-EU STANCE GROWS
A NEW poll has shown there is little chance of Iceland joining the European Union anytime soon. The number of Icelanders against membership has now risen to 55.5 per cent with only 24.7 per cent in favour. Once again fishing is the main reason as Iceland would lose control of its own fishing grounds. Support for EU membership has declined since the beginning of this year according to the poll, when 36.2 per cent of Icelanders supported EU membership while 47 per cent were against. The figures are consistent with the general feeling in the country for the past seven years, despite attempts by some politicians to apply for membership.
FISH WITH HUMAN TEETH FOUND IN US LAKES
FISH with almost human like teeth have been found in lakes around Michigan during the past few weeks, wildlife officials have reported. But it is not thought to be the result of some mutant aberration. They have been identified as red belliwed pacu from South America which somehow got into the water. Many Americans import fish from the tropics, although the pacu can grow aggressively.
BIG DRUGS HAUL FOUND IN FISH SHIPMENT
POLICE in Georgetown Guyana have arrested one person and are searching for another after seizing more than 175 pounds of cocaine in a large container of fish and shrimp at the city's international airport. The police narcotics branch carried out the raid at the airport just as the drugs were being processed through a local air cargo service for shipment to the United States.  The New Source online publication said that several long pellet-like shaped packets of cocaine were discovered in a number of the frozen fish. It said the packets were tightly wrapped in white tape and plastic and placed just above the backbone of the fish.