Fish Update Briefing, Friday, August 11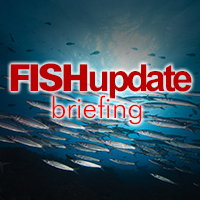 ICELAND RAISES SHRIMP QUOTA
ICELAND'S Marine Research Institute has decided to raise the shrimp quota for the new fishing season, which starts next month, to 5,000 tonnes from the current level of 4,100 tonnes. This is a significant increase as there had been some concern about stocks a couple of years ago, but the institute, which usually takes a careful approach to quotas, said the stock levels were now about the 'caution' level. It added that it is also finding large stocks of cod around Iceland's coast.
FREEZER TRAWLER SOLD FOR $13.5 MILLION
THE Icelandic fishing company HB Grandi has sold the freezer trawler Þerney RE 1 to South Africa, for $13.5 million. The vessel will be delivered to the new owners on November 15. The buyer, Sea Harvest Corporation, is a leading company in fishing and fish processing in South Africa. The Þerney RE 1, a fillet freezer trawler, was constructed in 1992 in Norway and has been operated by HB Grandi since its arrival in Iceland in 1993
EU IN CARIBBEAN CRACKDOWN
THE European Council has declared Saint Vincent and the Grenadines and the Comoros Islands as 'non-cooperating' third countries, in respect of the EU's regulations on Illegal, Unreported and Unregulated fishing (IUU). It says that following a dialogue that began in 2014, the countries have not adopted an adequate legal framework. The EU also noted the lack of an efficient monitoring, control and surveillance system; the lack of observer schemes; and the lack of a deterrent sanctioning system. Other identified shortcomings related more generally to compliance with international obligations and the conditions for registration of vessels according to international law.
FISH JUBILEE HITS GULF COAST
LARGE numbers of shrimp, crabs and eels have been coming ashore on the Mississippi coast, in what's called a jubilee. The Mississippi Department of Marine Resources says there were jubilee conditions for fish, shrimp, crabs and eels near the Gulfport and Long Beach harbours. However, the jubilee produced no finfish. Finfish bureau director Matt Hill says jubilees occur when the oxygen levels drop in very warm, calm shallow water. A news release said water samples did not show any signs of toxic algae, so the seafood was safe to eat as long as it's alive when picked up.