Fish Update Briefing, Friday, April 6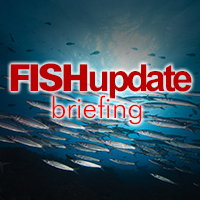 NIP AND TUCK FOR FISH!
THE idea of cosmetic surgery for fish might seem a little bizarre, but it is becoming standard practice in some parts of the Far East. The New York Times reports that in Singapore, pet store owner Eugene Ng has been giving some of his fish an eyelift after he noticed their eyes were a little droopy. Ng is now regarded as an expert cosmetic surgeon for the Asian arowana fish (also known as dragon fish) found in Singapore. In these examples, he managed to push the eyeball of the fish fully back into their sockets. He said: 'I know some people think it's cruel to the fish. But really I'm doing it a favour. Because now the fish looks better and its owner will love it even more.'
CLIMATE CHANGE PRODUCING SMALLER FISH
THE Plymouth Marine Laboratory has found that the number of large fish in the North Sea may decrease by up to 60 per cent in future years due to climate change. It says a recent study has shown that the effects of warmer waters and ocean acidification may mean it has to reconsider fisheries management targets based on fish size because they could become unachievable in future.  Using state-of-the-art modelling and comparison with real-life surveys, the researchers demonstrated they can simulate how fish size is changing under the pressures of fishing and environmental factors, such as sea warming.
SEAFOOD PUB CO TRIUMPHS AGAIN
THE highly successful Seafood Pub Company, which has 11 sites across Lancashire and Yorkshire, has landed a major prize at the annual Publican Awards in London, winning the best food offer section. Managing director Jocelyn Neve, who collected the award from comedian and presenter Rob Brydon, said: 'This is the third time in four years we have been recognised in this award, which is an amazing accolade.' As the name suggests, fish makes up a major (though not exclusive) part of the group's pub menus. She added: 'A pie and a pint is just as important as lobster and champagne to us and when we see both of these dishes being enjoyed by guests at the same table, we know we've done our job well.'
NEW CEO FOR HIGH LINER FOODS
THE big Canadian seafood business High Liner Foods has appointed a new chief executive. He is Rod Hepponstall, who has 25 years' experience working in the food industry in the US and Canada, in both retail and food service.  He most recently held a senior vice president position at Lamb-Weston Inc. He will assume his new position on May 1 from Henry Demone, current chairman and CEO of High Liner, who plans to continue as chairman.