Fish Update briefing Friday April 24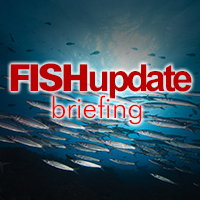 Norway and UK top Brussels prize list
SALMON Brands of Oslo, Norway, was awarded the top prize in the 15th annual Seafood Prix d'Elite new products competition at Seafood Expo Global this week.
The winner, selected from a field of 37 finalists, was announced on Tuesday night at the show, the biggest of its kind in the world.
There was success too for the UK with the Big Prawn Company of Melton Constable awarded the Seafood Prix d'Elite special award for convenience for its product Seafood Rarebit.
A seafood take on a classic Welsh dish, this frozen retail product offers two pastry cases filled with king prawns and topped with a sauce flavoured with English cheddar cheese, mustard and spices.
The Big Prawn Company was also presented the Seafood Prix d'Elite special award for retail packaging for its product, 2 Crayfish Thermidor Bakes.
Designed for special holiday occasions, this product features twin ramekins filled with crayfish tails in a creamy thermidor sauce flavoured with white wine, shallots and mustard, then topped with a ciabatta Grand Padano cheese breadcrumb

Death of New Zealand fishing pioneer
THE New Zealand seafood industry has lost one of its most distinguished figures with the death of Philip Vela.
Vela was an early pioneer in the development of the hoki, orange roughy, tuna and squid fisheries.
He continued to be a major player and innovator in New Zealand fisheries, a business where only the strongest of the strong have survived over these past 40 years, said George Clement, chief executive of industry body Deepwater Group.
Vela's father emigrated from Croatia on the Dalmatian coast to New Zealand in 1929 and, along with his two sons, developed what has grown into one of the country's largest privately owned fishing companies, Vela Fishing.
'Their innovation and imagination led them to be the first to purchase large super-seiners to develop New Zealand's skipjack tuna fishery in the 1970s,' said Clement.
'At the same time, they were the first to utilise trawlers with onboard factories to produce 'once frozen' fillet product; the first to export New Zealand fillet products to the British market; and the first to produce and export sea-frozen hoki fillets to the US market.'

No serious Gulf fish contamination
FIVE years after the Deep Water Horizon oil rig explosion in the Gulf of Mexico, a sample of 1,000 fish, shrimp, oysters and crabs has shown no serious levels of contamination.
The study was carried out by a team led by Dr Andrew Kane and colleagues at the University of Florida.
In fact, some 74 per cent of the seafood tested showed no quantifiable levels of oil contaminants at all.
Eleven rig workers died in the blast which sent large quantities of oil into Gulf waters and has left BP with a massive compensation bill.
'Seafood appears as safe to eat now as it was before the spill,' said Kane, associate professor of environmental and global health and director of the Aquatic Patho-biology Laboratory at UF's Emerging Pathogens Institute

Eat fish for weight loss!
RESEARCHERS at Tufts University, Massachusetts, have found that eating seafood can make people lose weight, while eating red meat puts on the pounds.
They discovered that altering the types of protein and carbohydrate-rich foods a person eats can cause weight gain or weight loss.
The researchers based their findings on three long-term studies from US health professionals which included results from 120,000 men and women over 20-year period.
The study has been published in the American Journal of Clinical Nutrition.