Fish Update Briefing, Friday, April 21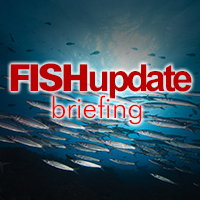 DEATH OF FORMER SEAFOOD SCOTLAND CEO
FORMER Seafood Scotland chief executive Dr Jon Harman has died following a short illness. He was more recently a former trade relations director in Northern Europe for the Alaska Seafood Marketing Institute (ASMI), tasked with promoting Alaskan seafood. He graduated from London University with a degree in biology, and had worked in the seafood industry for 35 years covering all sectors, including pelagic, whitefish and shellfish. Having established the trade association Seafood Scotland, he then went on to become a director of Seafish UK. He had recently retired from Lotus PR. Rebecca Wilson, director of ASMI Northern Europe, said: 'With his extensive seafood experience, we were proud to have Jon as our trade ambassador. His expertise and extensive industry network were highly valued by us and everyone in the Alaska seafood industry.'
AUSSIE SEAFOOD ALERT AFTER TOXIC SPILL
RESIDENTS around the Australian city of Brisbane have been warned not to eat seafood caught near one of its main rivers due to a potential toxic chemical spill. The Queensland government has launched an investigation after fire-fighting foam leaked into waterways from Brisbane Airport, suspected to be the cause of a small fish kill. The chemical PFOA is found in a fire-fighting foam used at airports and defence sites. Apparently, a Qantas sprinkler system failed, releasing around 22,000 litres into the water. 'We notified the Queensland government and we're working with Brisbane Airport on the clean-up and the investigation,' a Qantas spokesman said.
IRISH FISH FARM DEAL
MARINE Harvest Ireland has reportedly signed a new salmon farm arrangement with a Connemara based aquaculture enterprise called the Mannin Bay Salmon Company, in a deal which could prove to be a major boost for the region. The farm will be at Bertraghboy Bay. It will be a five-year programme employing eight people, with the possibility of further jobs in processing. Initially, more than half a million smolts will be put to sea at Bertraghboy Bay. Based in Donegal, Marine Harvest Ireland produces around 10,000 tonnes of salmon a year.
NORWAY AND RUSSIA RESUME TRADE TALKS
FRESH back from her successful Chinese trade mission, Norway's industry minister Monica Maeland was in Russia earlier this week to try to improve relations in the hope that seafood exports will one day resume. Norway and Russia share and jointly administer the Barents Sea, arguably the world's richest cod and haddock grounds.
Trade between Norway and Russia was reduced as a result of the crisis in Ukraine, but there is still ongoing cooperation in many sectors. The meeting, in the Norwegian-Russian economic commission in Moscow, is important in this context, said Mæland.