Fish Update Briefing for March 6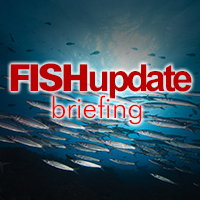 Five men poisoned by fish
FIVE Japanese men were in a serious condition in hospital this week after eating the liver of pufferfish – also called blowfish or fugu in Japanese.
Although the fish is considered a delicacy in Japan, it contains deadly poisons and serving the liver is banned under Japanese law.
According to an official in the city of Wakayama, the five men pleaded with the restaurant owner to serve them fugu liver.
About five hours after the meal, the diners began showing symptoms of nausea, dizziness and difficulty breathing.
All five were hospitalised, but are recovering, the official said. The toxins in fugu are more deadly than the poison cyanide and can affect a person's central nervous system.

Warmer seas leading to fish sex change
A WARMER climate combined with modern chemicals could be causing fish to change sex! Research shows that fish were more likely to alter their gender when exposed to the hormone effects of chemicals if they were in warmer water.
The study was undertaken by Exeter University and the chemical company AstraZeneca and published in the Proceedings of the National Academy of Sciences.
The European Union is likely to tighten restrictions on discharging hormone changing chemicals into the sea and waterways.

Trawler chosen for cancer campaign launch
THE Icelandic Cancer Society's annual Moustache March kicked off this year with a ceremony held on board HB Grandi's trawler the Helga María in Reykjavík harbour.
Health minister Kristján Þór Júlíusson and Jens Garðar Helgason, chairman of Fisheries Iceland, unveiled a handsome moustache in front of Helga María's wheelhouse.
According to Ólöf María Jóhannsdóttir, the Icelandic Cancer Society's marketing manager, agreement was reached last month for Fisheries Iceland to be the main sponsor of Moustache March – Men and Cancer for the next three years.
She said: 'It's very important for the Icelandic Cancer Society to have such a powerful sponsor as Fisheries Iceland and this agreement means financial security for this vital effort for the coming three years.'

Norway reshapes fishing districts
NORWAY is proposing to split its fishing administration into three distinct administrative regions. The country's Directorate of Fisheries says the proposal is designed to solve any problems or challenges within the industry in the best possible way.
The proposal is for the port of Tromso to be the base for the northern region, which also includes Finnmark, Trondheim as the headquarters for the central region, and Bergen for the southern region.
The fisheries minister Elisabeth Aspaker will make the final decision.