Fish Update Briefing for Friday June 19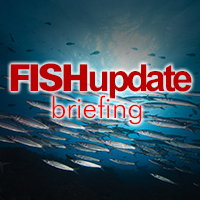 Fish education scheme to expand
THE Seafood Nutrition Partnership, a non-profit organisation whose mission is to educate Americans about the critical health and nutritional benefits of seafood, is expanding its public health education outreach campaign to several cities across the United States.
They include Memphis, Oklahoma and Birmingham, Alabama. Each city will host a kick-off event in October with community leaders.
It is part of the Seafood Nutrition Partnership's campaign to educate and empower Americans to live healthier lives by eating a nutrient rich diet that includes seafood, at least twice a week.

No more cold fish
THE term 'cold as a fish' may soon have to be revised. Scientists carrying out research in the Pacific have found the first known example of fish with warm blood.
Circular in shape, the fish is called an opah, or sometimes a moonfish, and researchers have determined that it can keep its internal temperature five degrees Celsius warmer than  the waters outside.
Heidi Dewar, a fisheries research biologist at the National Oceanic and Atmospheric Administration, who worked on the study published in Science, said: 'We were shocked. How often do you get to find something that no other fish has?
'It is a once-in-a-lifetime opportunity. Until now, no fish had ever been discovered that can warm its entire body. It is thought to heat itself by flapping its pectoral fins.'

Warming threat to Mekong Delta
THE Mekong Delta is one of the world's great fish farming areas, but flooding and contamination of salt water from rising sea levels are being seen as a major threat to fish stocks.
Fish farmers are complaining about land lost to record floods, restricting crop production and their earnings.
This was being further complicated by dam construction in Laos, which Mekong River Commission insiders blame for undermining a regionally coherent, science based strategy for the Mekong River.
The commission says it expects the problem to increase over the next decade.

Young's helps air ambulance
YOUNG'S Seafood has donated £250 to Lincolnshire and Nottinghamshire Air Ambulance as part of its Fish for Life Corporate Social Responsibility programme, aimed at playing a positive role in the community.
The Lincolnshire and Nottinghamshire Air Ambulance is a dedicated Helicopter Emergency Medical Service which first began flying operations in Lincolnshire in April 1994.
Based at RAF Waddington, south of Lincoln, their base is unaffected by road congestion, country roads, heavy vehicles or road works.