Fish farming relief as Solberg wins again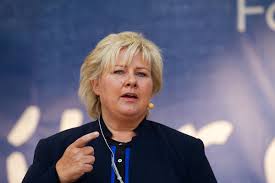 PRIME Minister Erna Solberg and her right wing allies look set to govern Norway for another four years after her Conservative Party claimed victory in yesterday's hard fought general election.
With most of the votes now counted, it is a result which will bring relief to Norway's fish farmers who feared higher taxes and tougher environmental restrictions under Labour.
But it may cause dismay among fishing communities in the north of the country who are battling against expansion plans by the oil industry. They argue that further exploration will permanently damage fish stocks.
At one point it looked as if a left wing alliance might cross the half way barrier in the 169-seat Storting (parliament), but Labour lost ground.
Solberg (pictured) will, however, have to govern with a small but reasonably comfortable majority when the new parliament opens in October, and has yet to negotiate coalition deals with other parties to the right.
It will be some time before she names her new cabinet, but fisheries minister Per Sandberg, who campaigned hard in fishing constituencies, is on record as saying he has unfinished business and wants to stay in the job for at least another two years.
He is due to visit Russia in the next few days to discuss joint fishery issues in the Barents Sea.
The prime minister said her victory was down to team effort and she would now sit down with her partner parties, of which the populist, anti-immigration Progressive Party is the largest. She added that she had plenty of time to form a new government.
Thanks, in part, to expansion in aquaculture and conventional fishing, unemployment in Norway is down to 4.4 per cent, robbing Labour of one of its main arguments.
Two years ago Labour was well ahead in the polls following the loss of more than 40,000 jobs in the oil industry, but its millionaire leader, Jonas Gahr Store, came under fire during the campaign when it was revealed he had invested in companies that produce parts for nuclear weapons, something that Norway's massive national oil fund is banned from doing.