Fish and shrimp farmers' profits set to slip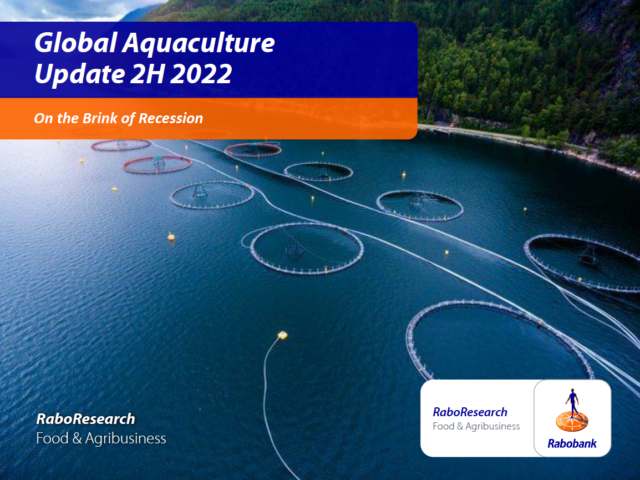 A downturn in consumer demand, combined with rising production costs, is set to hit aquaculture producers' profits in the second half of this year.
That's the warning from the research arm of Rabobank, in its latest Global Aquaculture Update.
Rabobank says that its expects to see weaker consumer demand in Europe and North America in H2 of 2022, compared with the first half. Driving this is an expected fall in foodservice demand for seafood
The report says that with softening demand, price corrections, and persistently high production costs, salmon and shrimp farmer profits are likely to decline from recent highs.
China remains an unknown, the report adds, since if the country is able to emerge from its cycle of Covid lockdowns, it may see a surge in demand.
Gorjan Nikolik, Senior Global Specialist, Seafood at Rabobank, said: "The US remains a strong demand driver for seafood, but foodservice demand is clearly declining. This could be the beginning of a long challenging period in the US. But China has the potential to be the key driver of demand for shrimp, and possibly salmon, in Q4 2022.
"Though we remain optimistic that China will once again become an important driver of shrimp and salmon demand before the end of the year, Covid lockdowns and import restrictions greatly decrease the probability."
The forecast for fishmeal producers is more positive, however. Rabobank says: "Fish meal supply remains relatively stable. However, the record-high prices of vegetable substitutes make marine ingredients relatively competitive in feed formulas, supporting demand and prices."
Rabobank says farmers are facing continuing high feed, freight and energy costs, and the high levels of profitability seen in the early part of 2022 are not likely to persist.
Global Aquaculture Update 2H 2022: On the Brink of Recession is available to download from the Rabobank website.