Faroes government moots tax hike for salmon farmers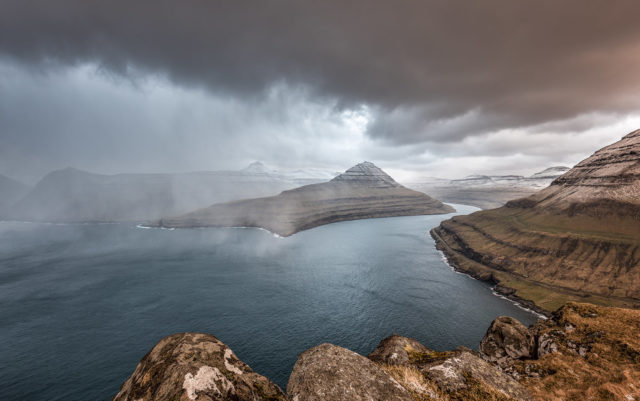 The new Faroe Islands government is proposing a big rise in its salmon ground rent tax, doubling the rate to 20% at the top end.
The surprise news was disclosed last night by Bakkafrost, the country's largest salmon farmer which said the proposal has gone out to the industry for consultation before it is voted on by the Faroese parliament.
The rise is higher than that suggested by the previous administration but Faroe Islanders elected a new Social Democrat led government in December.
The new proposal consists of nine tax rates which range from 0.5% to 20%, calculated around the FishPool price index and production costs.
At the highest level the rate will be 20% if the FishPool price exceeds the equivalent of NOK 119 per kilo (£9.29) which is the price Norwegian buyers were paying for the best quality fish last week.
The Bakkafrost statement said: "The proposal is based on the same principles as the previous government's proposal where different tax rates are to be used, depending on the difference between the monthly FishPool prices and the annual assumed average production cost for the Faroese salmon industry.
"However, in the new proposal, the tax rates continue beyond the 10% proposed by the previous government, which is now in opposition, and extends to 20% when FishPool prices exceed the industry's cost of production by DKK (Danish kroner) 40 per fish kilo.
In total nine tax rates are proposed between 0.5% and 20%. The average production cost for 2021 is proposed as baseline, which is set to be DKK 39.15 (around NOK 59, or £4.65, per kg).
The statement goes on: "Hence, a FishPool Index price exceeding around 119 NOK per kg would result in the maximum tax rate of 20%."
Bakkafrost has yet to comment on how it feels about the plan, but the industry will clearly not be happy.
Less than two weeks ago a Norwegian political delegation visited the Faroe Islands and afterwards suggested that the earlier Faroese model should be adopted by Oslo.
The proposed tax rates are as follows:
FishPool Index Price (P). Cost of production (K).                                   
P < K gives tax rate 0.5%
K <= P < K+5 gives tax rate 2.5%
K+5 <= P < K+15 gives tax rate 5.0%
K+15 <= P < K+20 gives tax rate 7.5%
K+20 <= P < K+25 gives tax rate 10.0%
K+25 <= P < K+30 gives tax rate 12.5%
K+30 <= P < K+35 gives tax rate 15.0%
K+35 <= P < K+40 gives tax rate 17.5%
P > K +40 gives tax rate 20.0%
(all in DKK)