Farmers set to fight latest Discovery Islands ban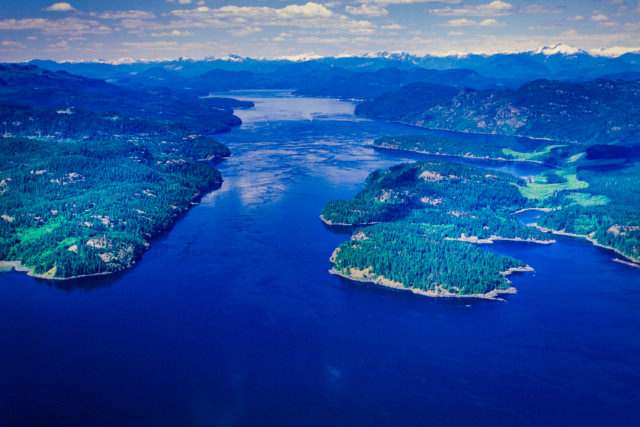 Mowi has signalled it is ready to take legal action if the Canadian government goes ahead with its threat not to renew salmon farming licences around the Discovery Islands in British Columbia.
Fisheries Minister Joyce Murray said last week that the licences held by larger companies in the region, also known as the Laich-kwil-tach and Klahoose First Nations territories, will not be renewed.
Canada's Federal Court last year ordered that the decision by Joyce Murray's predecessor, Bernadette Jordan, to rescind all finfish farming licences in the Discovery Islands region should be set aside and the question should be reconsidered. Murray has decided, following this process, to reaffirm the original order.
She said: "The state of wild Pacific salmon is dire, and we must do what we can to ensure their survival. This was a difficult but necessary decision. By taking an enhanced precautionary approach in the Discovery Islands area, the Government of Canada will help ensure the well-being of wild Pacific salmon for our children and grandchildren."
A statement from the Canadian government said: "The Discovery Islands area is a key migratory route for wild Pacific Salmon, where narrow passages bring migrating juvenile salmon into close contact with salmon farms.
"Recent science indicates that there is uncertainty with respect to the risks posed by Atlantic salmon aquaculture farms to wild Pacific salmon in the Discovery Islands area, as well as to the cumulative effect of any farm-related impacts on this iconic species."
Farmers 'disappointed'
Mowi Canada West issued a statement at the weekend, saying it was very disappointed at the decision, describing it as a further blow to exports and BC's coastal communities who rely on salmon farming as a primary economic driver.
The statement continued: "We had hoped today's announcement by the Government of Canada would correct the flawed previous decision and begin the path to recovery and certainty.
"We are very disappointed that Minister Murray has decided not to issue any salmon aquaculture licenses in the Laich-kwil-tach territory," said Dr Diane Morrison, Managing Director at Mowi Canada West.
"This decision, along with previous decisions, continues to raise serious questions about Canada's commitment to First Nations reconciliation, its food producers, and the health of coastal communities.
"Our company, along with the Wei Wai Kum and We Wai Kai First Nations had provided the Minister a very reasonable path forward that would help Canada achieve its stated vision for sustainable aquaculture and advance its Blue Economy Strategy. She has regrettably chosen not to accept this opportunity."
The statement concluded "The company is now reviewing the decision and is considering its legal options."
The British Columbia Salmon Farmers Association has accused the government of giving anti-salmon farm campaigners news of the decision before informing the industry and those First Nation members who are likely to be affected.
Brian Kingzett, the Association's executive director said: "The Federal government continues to demonstrate a lack of care for rural coastal communities and continues to put the interests of activists above the people who grow Canada's food. It is unacceptable that activist groups had advance notice, before licence holders and community leaders.
"The decision to not issue licences to salmon farms in the Discovery Islands area is devastating for all coastal communities who rely on the aquaculture sector.
"Local communities have been hurting since the decision to remove the farms was announced in 2020, and thanks to this wilfully uninformed decision announced earlier today, these communities will continue to experience negative socio-economic impacts of an outcome that was based on politics rather than science."
Mixed responses from First Nations
The Coalition of First Nations for Finfish Stewardship had previously set out a proposal for the possible reintroduction of some fish farms in Laich-kwil-tach waters, to be led and overseen by the Nations and their stewardship programmes. These sites would have operated in partnership with Mowi Canada West, Cermaq Canada, and Grieg Seafood BC.
Dallas Smith, spokesperson for the Coalition said: "Today's decision unfortunately feels beyond procedural unfairness after many months of meetings with the Minister, her department, and DFO staff.
"The Wei Wai Kum and We Wai Kai First Nations sent a thoughtful proposal to DFO in November to re-issue some licences in their core territories. They put forward a cautionary approach to explore how and if finfish farming could be part of their Nations' overall vision to manage their marine space. This decision to deny all licences in their territories has sent the Nations back to the drawing board in that regard."
However, Bob Chamberlin, spokesperson for the First Nations Wild Salmon Alliance tweeted in a message to Joyce Murray: "I have spoken with many #FirstNation Chiefs across BC about your decision & they are all very happy & supportive for your leadership #FoodSecurity received a very substantial boost today with your decision & a measure of Province wide #Reconciliation."