Experimental farm brings salmon and kelp together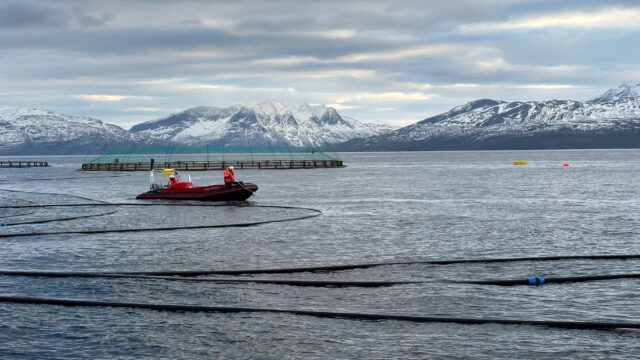 Salmon farmer Cermaq has teamed up with a specialist producer, Folla Alger AS, on an innovative farm site that combines salmon and kelp farming.
The sea site is located in Steigen municipality, in the Nordland region of Norway. It is designed as a traditional salmon farming facility with 24 cages, but with special solutions for growing kelp in the middle cages and salmon in the outermost cages on each side. Folla Alger is collaborating with Cermaq on the salmon farming at the sea site, while research institute SINTEF Ocean is producing the first kelp delivery for stocking at sea.
Silje Forbord, Research Manager with SINTEF Ocean, said: "Combined operation can provide good area utilisation by producing several species within the same area. This area is already set aside for salmon, and by growing kelp on the same site in addition, we hope to be able to contribute to increasing value creation. This set-up allows us to use the nutrients released by the salmon in a sensible way by producing kelp, which can in turn be used as a raw material in new feed.
"We know that we can get up to 50% better kelp growth by cultivating it together with farmed fish. Now we will also look at whether there are more advantages to combined operation, says Forbord."
Folla Alger was set up as a company specifically to explore integrated kelp and salmon production. The company's Chairman, Tarald Sivertsen, commented: "Fish farming and kelp farming are both industries for the future, and will be important contributors to the green shift."
Some of the nutrients released from salmon net pens are water-soluble, the project partners said. These nutrients will fertilise the kelp and lead to increased carbon sequestration as the kelp grows. With the help of photosynthesis, the kelp utilizes the sunlight, grows and binds carbon from the sea. The project will look at how salmon and kelp farming can mutually benefit each other.
It will also explore how salmon might benefit from being reared in an environment where kelp is growing – esentially, integrated multi-trophic aquaculture (IMTA) production.
Folla Alger has been granted Research and Development licenses from the Directorate of Fisheries to carry out the project. SINTEF Ocean is responsible for the research, which will be carried out in close collaboration with Norwegian University of Science and Technology (NTNU) and Nord University.