Excitement growing at Salmon Evolution, says CEO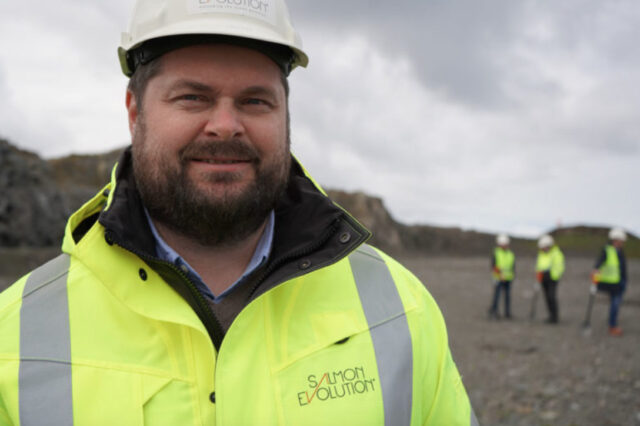 Land-based fish farming company Salmon Evolution has described 2021 as "a ground-breaking year" for the business.
Presenting the company's final quarter results, CEO Håkon André Berg, said: "We are truly excited about soon being able to welcome the first smolt into our facility at Indre Harøy.
"We have spent a lot of time preparing for this historical event and I have great confidence in our organisation as Salmon Evolution now enters the next phase."
The Indre Harøy site is just north of Bergen, Norway. Salmon Evolution is also working with Korean conglomerate Dongwon Industries on the development of a RAS (recirculating aquaculture system) fish farm in South Korea.
Salmon Evolution announced a Q4 operating loss of NOK 12.4m (£1m) which, given that it still has to produce its first salmon, was not unexpected. This week the company's shares, on the OPslo Stock Exchange, took a dive although this morning's trading has already seen a recovery up to 10.36 NOK (£0.87) from a low of NOK 9.25 (£0.77) yesterday.
The commissioning phase in connection with the handover of the first fish tanks started in December and last month  a major milestone was reached when the first fish tank was filled with fresh seawater from a depth of 95 metres, validating both the water intake and offtake process.
Simultaneously, with the high activity and progress at the building site, Salmon Evolution said it has built up a highly skilled operating organisation during towards the end of last year.
Earlier this week, Salmon Evolution announced it had agreed heads of terms with RAS specialist Artec Aqua for the second phase of ithe Indrew Harøy project.
Fourth quarter highlights included:
The company is "on track" for first smolt release in March 2022 – with capex in line with budget.
The commissioning phase has started with the first tank filled with seawater in January 2022.
The company entered a strategic feed partnership with Cargill, combined with a US$5m private placement.
Salmon Evolution entered into a "green power" agreement with energy supplier Statkraft, securing the vast majority of electricity needs through 2023 at attractive terms, confirming original budget assumptions.
A NOK 52m (£4.35m) debt financing package was secured relating to Salmon Evolution's acquisition of smolt producer Kraft Laks.
Kraft Laks smolt continuing to perform well, with expected average release weight for the first smolt of around 300 grams.
Salmon Evolution reports available liquidity of NOK 983m (£82.3m) as at 31 December 2021, including committed undrawn credit facilities.