Ex-journalist Norway's new seafood minister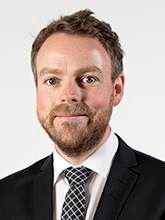 NORWAY'S Labour Minister Torbjørn Røe Isaksen is to take over the job of running the country's fisheries and seafood ministry – at least for the time being.
He replaces Geir Inge Siversten, who resigned after just 39 days in the post – one of the shortest in Norway's history.
Siversten stood down amid controversy over accepting severance money from his local government job while being paid as a minister – money he later returned.
He was also criticised for his links to a Masonic lodge which included a number of seafood executives as members.
Prime Minister Erna Solberg said last week she still had confidence in Siversten, but political pressure and criticism began to mount, forcing him to offer his resignation.
The new man, Torbjørn Røe Isaksen, a former journalist and editor, does not appear to have any close links with either fishing or aquaculture.
He has asked to keep his job at Minister of Labour and Social Affairs while running the fisheries department at the same time, which suggests it may be a stop-gap appointment.
Aged 41, he was once named Norway's most talented young politician. Isaksen is a member of the Conservative Party and served as Trade and Industry Minister until January this year, when there was a government reshuffle after a fall-out with Progressive Party members of the ruling coalition government.
He hails from the Telemark region and holds a masters degree in political science from Oslo University, but went on to become a journalist before entering parliament in 2009.
The seafood industry has yet to comment on his appointment, but it may not be happy that this is the sector's fourth minister in little over 18 months, and at a time it is facing a number of serious issues, not least the impact of coronavirus on exports.