EU trade deal vital says Norway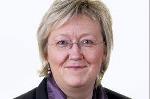 THE head of the Norwegian Seafood Alliance has said it is vital that the industry gets good export access to the main markets in the  European Union.
Following a meeting with Elisabeth Aspaker (pictured), Norway's European minister,  Kjell Ingebrigtsen of the alliance, said the country's competitors were currently negotiating free market trade deal with the EU.
'Norwegian seafood exports must have the same conditions,' he said. Around 70 per cent of Norwegian fish – both farmed and wild caught –  is sold into Europe.
The call came as Norway signed an additional Free Trade protocol agreement  with the European Economic Community affecting the export of certain fish and fish products. But is thought the Norwegian seafood sector wants a larger and more encompassing agreement.
The additional protocol is to be applied provisionally as of the date stipulated in its articles, pending completion of the relevant procedures for its ratification or conclusion and entry into force. 
Countries competing with Norway include Canada and Chile, both large scale producers of salmon. But Oslo was also up against other seafood producing nations such as the United States, New Zealand, Japan and South Korea and they were currently negotiating or about to negotiate deals with Brussels.
'The Seafood Alliance believes the Norwegian authorities urgently needs to go into negotiations with the EU about acquiring free market access in seafood,' said Ingebrigtsen.
Norway's seafood sector is booming at present with record exports in both farmed salmon and vessel caught cod and haddock. With the slump in oil and natural gas prices, the sector is also having a beneficial impact on the country's economy.
During the meeting with the minister, the alliance also expressed concern about the impact of higher costs on the industry if border controls are tightened.
Possible solutions, said Ingebrigtsen, could include specially accredited routes for trucks carrying fish and other perishable products or  the introduction of a fast track system at key border crossings.