'Egg' closed farm goes on show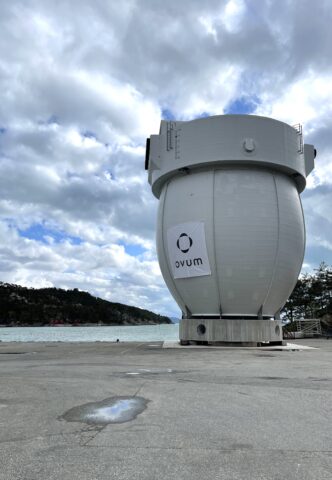 The "Egg" or Eggett fish farm has made its first public appearance in Norway, attracting a large number of onlookers.
Standing 21 metres tall, the size and unique design of the Egg (also known as the Eggett) brought gasps of admiration. The builders, Herde Kompositt, designed the closed-containment fish farm to eliminate problems such as lice, pollution and escapes.
Even at this scale, the pilot plant has been dubbed "mini egg" because it is  just a tenth of the size of eventual future constructions. It will be launched into the water at the end of this month.
This impressive construction has been built for the fish farming company Hauge Aqua Solutions and can hold around 100 tonnes of fish.
Based in Ølve, south of Bergen, Norway, Herde Kompositt  is recognised as a leader in composite material production and is equally well known as a builder of lifeboats and similar craft.
Behind  the company are four entrepreneurs: Kim Røssland, Kristine Moldenhauer Biseth, Arvid Skogseide and Svenn Idar Nordtveit. They were awarded the contract just over a year ago.
Hauge Aqua Solutions, of which the firm Investor Akvaculturpartner is a major investor, was launched 10 years ago with the aim of developing new socially and environmentally friendly aquaculture technology. The company is also committed to help develop aquaculture in Africa.
Last week Akvaculturepartner bought the remaining development licences from Mowi which pulled out of the project some time ago.
The Eggett is classed as a "floating closed flow system for fish farming" and can hold 1,850 cubic meters of water .
This pilot unit is unit is 21 meters high and 15 metres  wide and built in fibreglass. The shape provides a complete double curved surface. Ninety percent of the tank is submerged and not visible during operation, while 10% is above the water and filled with ventilated air.
The water intake is located at the bottom of the unit at a depth where salmon lice are not normally found. It also means infection pressures are greatly reduced. The unique design also means escapes should become a rare occurrence, the designers say.