East Iceland farms on alert over algae bloom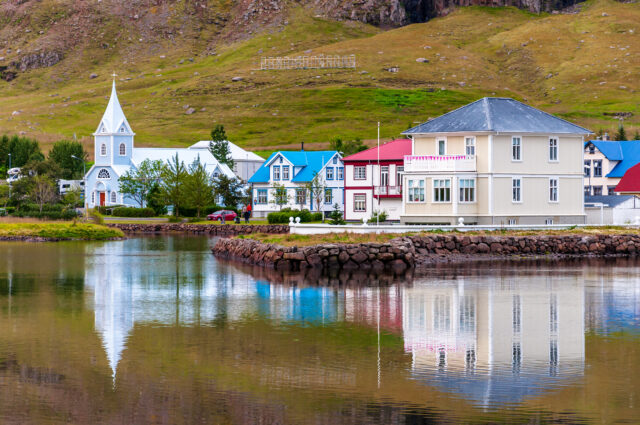 Fish farmers on the east coast of Iceland are keeping a close watch on a potentially devastating large algae bloom close to the shore.
A similar bloom killed most of the farmed fish in the area over 20 years ago. Algae also cost Norwegian fish farmers at least £170m in 2019 and was responsible for the deaths of hundreds of thousands of salmon in Chile earlier this year.
The Iceland threat is at Seyðisfjörður, where algae has turned the fjord blood red. RUV, Iceland's national broadcaster says the bloom of algae can be clearly seen from the shore, but is even better-observed from the air.
Local resident Sigfinnur Mikaelsson, who farmed fish in the fjord for 12 years but who now campaigns against the industry, recalled problems with algae had occurred in the past which usually occurred in the spring and autumn.
He said: "The bloom now is similar to those back then. The sea becomes dark and muddy and overnight all the fish die. This algae we are seeing now is so-called poison algae. It sucks up the oxygen and settles on the fish's gills and kills it. The fish then die and sink to the bottom."
Mikaelsson stresed that he was bringing the subject up because a 10,000 tonne fish farm is planned for the area and is currently at the consultation and planning stage.
He added: "We can see the sea now. I would not want to own 10,000 tonnes of farmed salmon in the fjord today. I can practically guarantee that the fish would all end on the bottom one of these days."
Kristín Jóhanna Valsdóttir, a researcher at the Marine Research Institute, said following consultation with fish farmers in the area it had been decided to take samples for further investigation.