Donut heads out to start trials at sea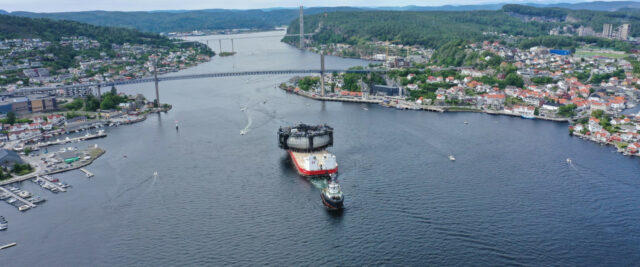 The Marine Donut, the world's largest closed fish farm cage, left its construction site south of Oslo at the weekend, setting out on a 500 mile journey to its new production location.
The 600 tonne thermoplastic structure was jacked onto a barge several days earlier in a ceremony watched by staff and directors of Bluegreen, the construction company behind the project.
It is now being taken towards Romsdalsfjorden, 510 miles further north and is expected to arrive there some time later today.
Sondre Thorsen, the operations manager and responsible for the shipment of the Donut, said, the operation was completed just three hours behind schedule and she was satisfied with that.
"No-one is in a hurry for such a large operation," she added.
Once there, the Donut's customer SalMar – the world's second largest fish farmer – will fill it with 200,000 salmon each weighing 2.5 kg.
They will be held inside the facility until they reach harvest size at 5.5kg.
This is "when the fun really begins", said Nils Johan Tufte, CEO of Bluegreen, the company behind the project, adding: "From now on we can verify the hypotheses that Marine Donut provides good fish health, premium fish quality – and good profitability for the breeder."
The facility has been given the name "Donut" because its ringed design is similar that of the shape of the popular American confection. It is designed to prevent escapes and contamination. It also reduces the risk of disease and sea lice.
Marine Donut uses a flow system that exercises the fish, giving them a current to swim against, and the flow can be adjusted according to the farmer's requirements. This recreates the environment that the salmon experiences in rivers and at sea.