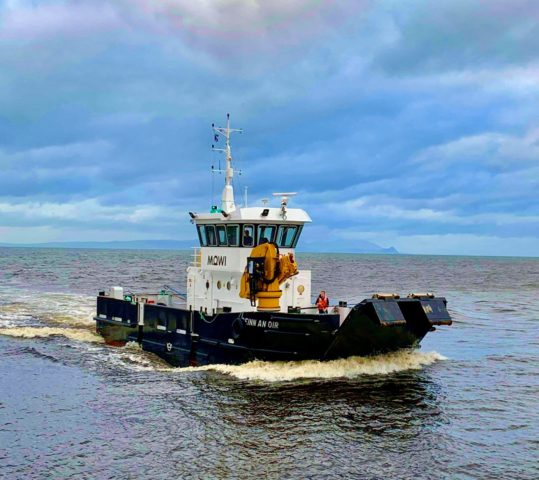 The new breed of workboats addresses the crew's needs
Working in open waters is pretty demanding for crew members. That's why addressing the "human factor" is considered a key driver for operational performance. Nauplius Workboats applies crew-centric design principles, resulting in comfortable working conditions. Both decks and cabins are designed to promote an optimal workflow. Even more importantly these days, those in aquaculture rightly expect more than a standard workboat. The Multi-Cat hybrids(1907LUV, 2712LUV) set a perfect example; these unique vessels offer extra deck space access remote slipways and withstand the harsh environments. Workflow optimisation can dramatically cut operating costs and greenhouse gas emissions to the benefit of both clients and environment.
Nauplius Workboats offers innovative end-to-end services, so progressive design and technology can be applied to new builds and modification projects. No matter what the working conditions are, productivity, efficiency and safety are guaranteed.
Next generation on deck units
After an extensive R&D, design and testing phase, Nauplius Workboats is proud to announce a new range of on-deck units. Included are Oxygen generator, Falmosan dosing units and Hydrogen Peroxide dosing units that require minimal space occupation. All units can be integrated with new or existing treatment systems – skidbuilt or containerised – and delivery will start in the first quarter of 2021.
As Gerrit Knol, Technical Director, Nauplius at Nauplius Workboats explains: "If you expect different results while working conditions remain the same, innovative design will prove to be an absolute gamechanger. Also, our commitment to retain the highest level of operational support contributes to the competitive advantage of our clients."
Segment specific know-how
Nauplius Workboats has built a track record in workboats related services, ranging from design optimisation, complete builds, legislation knowledge to onsite assistance. This multidisciplinary approach means the company has developed in-depth know-how regarding the design, execution and implementation process.
Our vessels represent a broad range, yet three primary activities jump out. Aquaculture, dredging and offshore maintenance, and crew transfer vessels for support and transfer activities. In most cases, these marine assets provide sole access to offshore fish farms and other facilities located in remote offshore areas.
Each activity segment requires specific design features, layout arrangements and on board equipment. If all is designed and assembled to facilitate an optimal workflow, complex processes under challenging working conditions can be executed to meet the most demanding productivity objectives.
Nauplius Workboats has a unique modular approach resulting in a high production capacity, seamless third party collaborations, bespoke aquaculture systems and systematic flexibility. This approach makes every tailor-made vessel unique in design, in accordance with client requirements and specifications; on deadline, and on budget, ensuring full compliance with international regulations and safety measures.
Environmentally-minded sustainability has been and will remain a prominent topic in the ship building and operating industry. Nauplius Workboat 3514 Utility Vessel on build for Inverlussa, has been designed with an emphasis on complete service and low-impact environmentally friendly features, in accordance with latest regulations for aquaculture in Scotland.
To lower the carbon footprint and fuel consumption, Nauplius Workboats designed a heat recovery system to generate the base load heat, required for the Thermolicer system. Oil burners are fitted for temperature fine-tuning only, additionally to the heat recovery system to further reduce the vessel's carbon footprint.
The fish treatment system facilitates a maximum throughput of 340 tons of salmon per hour depending on the size of the salmon. Due to the unique operation of this vessel, diesel electric configuration facilitates the most economical output at lower fuel consumption compared to traditional propulsion systems.
"We are very proud of this design, which merges all the demands of specialists working together without compromises to aesthetics," Gerrit Knol says.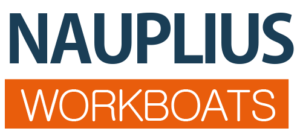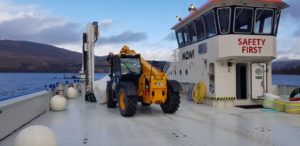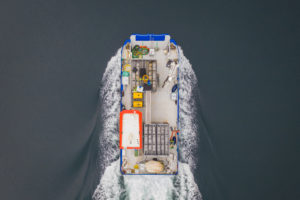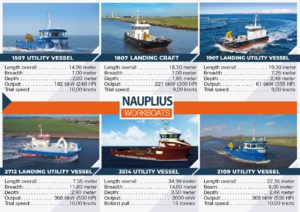 Captions:
Featured: Beinn an Oir, a 1907LUV
Above from top: Easy slipway access; top view of the Beinn Dearg; The Nauplius portfolio