Deep-sea fishing ban will destroy livelihoods, warns skipper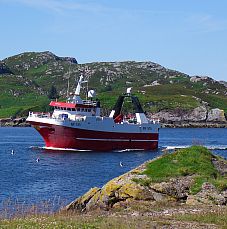 AN experienced Scottish skipper has warned that outlawing deep sea fishing would cause unnecessary job losses in the industry.
Peter Lovie, skipper of the Endeavour (BF515), urged fishermen and environmental groups to work together to achieve their common goal of eliminating the threat to some species and protecting vulnerable ecosystems without the need for a damaging blanket ban.
He said the vast majority of fishermen were committed to improving sustainability and reducing their impact on the environment, with many already having voluntarily restricted their effort and changed the type of gear they use.
Scottish fishermen were instrumental in closing areas of Rockall Bank and Darwin Mounds to protect vulnerable corals and other special features, while species such as blue ling were now being fished sustainably. These are the actions, Mr Lovie said, of a caring and sensible industry.
The European Commission has proposed quota cuts for the next two years for some deep sea species in the north-east Atlantic but some environmental groups still want an outright ban.
Mr Lovie, a skipper for 26 years, who started fishing when he was 17 and whose roots in the industry stretch back for generations, said:
'A deep sea ban would have a massive impact on my vessel's viability and all those who depend on the fish I catch in the deep, which includes non-deep sea species such as anglerfish, ling and saithe. Job losses would be inevitable.
'But there is no need for a ban. I and fishermen like me have made a lot of changes and continue to look at other advances we can make.
'If the environmental groups only took time to understand what we do, they would realise that the best way to protect our seas is to work together for the common good.'
On the Endeavour, Mr Lovie has already:
• Cut his impact on the sea bottom by reducing trawl door and gear size
• Reduced fuel use and therefore carbon dioxide emissions by increasing the netting size at the opening of his nets
• Invested £25,000 in a flex fuel system to save on fuel costs and emissions.
'There is much more we can do. I would propose that we continue to research the use of bigger mesh, reducing discards further', he said.
'It is also our responsibility as custodians of the sea to look at additional measures to protect vulnerable habitats such as offshore Marine Protected Areas.'
Half of Mr Lovie's annual catch comes from the deep sea, and includes monkfish, saithe, haddock, blue ling, hake, black halibut and redfish.