Courier awards top winning week for Ace Aquatec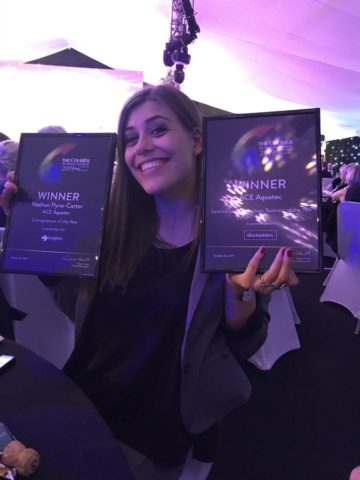 DUNDEE based Ace Aquatec, which supplies technical equipment to the aquaculture industry, has triumphed in two separate award ceremonies in the past week.
Managing director Nathan Pyne-Carter won the coveted Entrepreneur of the Year award at the Courier Business Awards on Saturday, an honour he was shortlisted for last year.
The company also picked up the prize for Science and Technology business of the year, after being on the shortlist in 2018.
And the Ace team made the shortlist in a third category – Design and Innovation – which it won last year. The award this year went to NCR.
A total of 24 awards were presented at the annual event, staged by newspaper group DC Thomson Media and being held for the seventh time.
Fife based timber firm James Donaldson & Sons was announced as Business of the Year at the black-tie ceremony, held at the Apex City Quay Hotel in Dundee and attended by more than 800 guests.
Last week, Ace Aquatec's head of sales and marketing, Mike Forbes, collected the prestigious Innovation Award at the Global Aquaculture Association's GOAL conference in Chennai, India.
The company beat two other finalists, whittled down from a record 41 applications: US wood to single cell protein innovator Arbiom, and Pegasus Science of Brazil, which has developed technology to better measure fungal toxins affecting aquafeed.
Forbes secured 51 per cent of the audience vote after delivering a presentation of Ace Aquatec's electric stunning technology.
He said: 'We're proud to be exporting industry leading innovations from Scotland to the rest of the world, and to be recognised with awards in both India and Scotland within the space of a week shows it's possible to have a truly global impact on sustainable aquaculture from Scotland.
'These awards are a result of the commitment everyone in our team has to creating new technologies that can help accelerate the adoption of responsible marine practices.'
The company has previously won innovation awards at Aqua Nor in 2017 and at the Aquaculture UK awards in 2016, as well as two Queen's Awards for Enterprise Innovation, in 2018 and 2019.
Its products include acoustic deterrent devices, the 'electric fish' anti-predator innovation, and a new BioCam 3D underwater camera that measures biomasss.