Cost-effective bulk packaging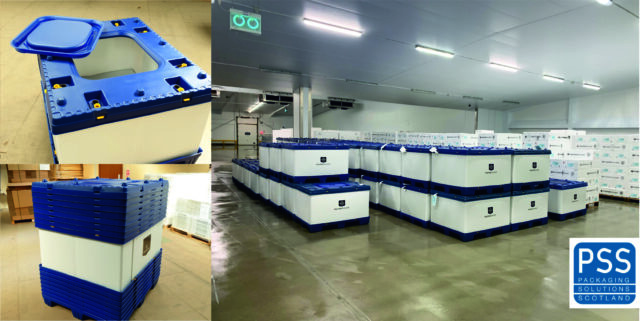 The S Bin provides an economical and greener alternative to EPS boxes
Salmon processing companies are the main users of polystyrene boxes in the aquaculture sector, using approximately 8 million boxes per annum. The S Bin provided by Packaging Solutions Scotland Ltd (PSS Ltd), provides a very cost-effective alternative to EPS (expanded polystyrene) salmon boxes. Used in closed logistics loops, the S Bin can reduce packaging costs by more than 50% claim PSS Ltd. In a climate of ever-increasing costs, that is an option few can chose to ignore.
On a trip rental basis, PSS Ltd can meet the customer's needs, with the customer only paying for what they use. For a typical pallet of salmon of 24 poly boxes and a one trip wooden pallet, the packaging costs are around £60 or approximately 12p/kg. Using rented S Bins, the cost of packaging based on 400kg capacity bins is approximately 6p/kg* In addition to the cost saving on packaging, the carbon footprint is also massively reduced. An independent study has demonstrated a reduction of 78% CO2 using S Bins in place of polystyrene boxes.
The benefits do not stop there. The efficiencies in filling and emptying the bins are attractive, and with less man hours required to handle the bins the production costs at both primary and secondary processing facilities can be significantly reduced.
For more information on how the S Bin can help your business contact Packaging Solutions Scotland Ltd on info@packsysco.com or visit www.packsysco.com
*includes typical washing costs