Cod and oil do not mix – fishermen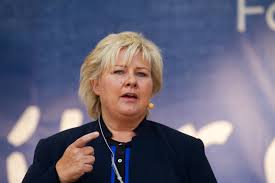 NORWAY'S trawler chiefs have called on their government to give important spawning and fish nursery areas greater protection against the advance of the offshore oil and gas industry.
Fiskebat, the Norwegian Fishing Vessel Owners' Federation, has said that proposals by the prime minister, Erna Solberg, to open up certain vulnerable areas to the offshore sector must be rejected.
The federation said: 'We would point out that there have been abundant fishing (in these areas) since time immemorial.
'They are very important spawning grounds for including some of the world's richest fish stocks, especially for cod and herring.'
The federation believes it is important for Norway to protect its worldwide reputation in fishing.
'We are therefore very critical of the prime minister for planning to open these highly vulnerable areas to exploration.'
It not only involved the risk of pollution, but could also cause insurmountable problems for land based fishing operations.
Fiskebat says there have been tensions between fishermen and the petroleum industry since 1970 when large oil deposits were first discovered. While there had been some improvement in relations what was now being proposed did not bode well for future coexistence.
Fiskebat's views are also shared by the Norwegian Fishermen's Association, which warned a few weeks ago that research by the University of Tromsø had shown that Arctic cod were clearly highly susceptible to oil pollution.
According to Professor Jørgen Berge, research indicates that the cod population could be at risk of significant damage even at relatively low concentrations of oil, and this also applies to areas covered with ice.
Otto Gregussen, secretary general of the Norwegian Fishermen's Association (Norges Fiskarlag), said: 'The reason why we are opposed to further development is that we believe this represents an unacceptable risk – not for individual stocks, but for the entire ecosystem in the various species that exist in the north.
'It is our view that the risk to these ecosystems as a whole is too high for further development, and that the risk increases the further north one goes,' he said.