China's seaborne fish farm wins ASC approval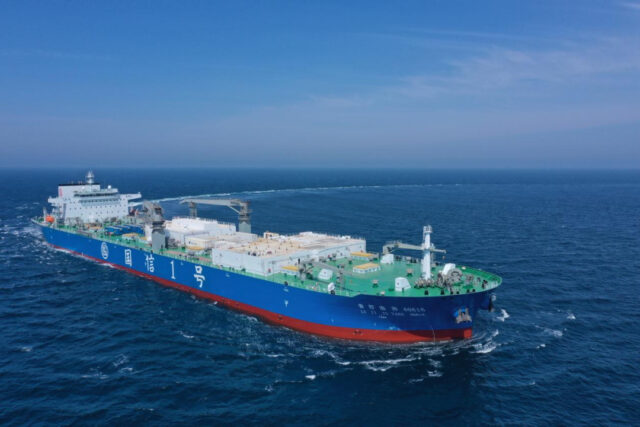 A giant Chinese fish farming vessel has become the first operation of its kind to win certification from the Aquaculture Stewardship Council.
The Conson No. 1 is also the first fish farm producing large yellow croaker (Larimichthys croceus) to be certified by the ASC.
Conson No.1 Aquaculture Ship is owned by Qingdao Conson Blue Silicon Valley Development Co., LTD; a pioneer of closed-ship aquaculture. It began operations in May 2022. Described as a "smart farming ship", it combines ample space with an advanced digital management system that closely controls the environment of the growing conditions.
The aquaculture ship cruises in waters up to 100 nautical miles offshore; carefully considering the seawater temperature along the route to match the growth of the large yellow croaker. Advanced weather monitoring systems avoid natural risks such as storms and typhoons.
Water is circulated to simulate ocean currents and forms a rotating flow to mimic the natural environment.  Additionally, because large yellow croaker have a relatively strong stress response to noise, the ship has advanced noise reduction technology to optimise growth. Onboard technology also enhances oxygenation inside the tanks, automatically provides intelligent lighting and monitors and manages water cleaning and waste removal.
ASC's large yellow croaker certification is based on the ASC Tropical Marine Finfish Standard. The standard has more than 150 assessment indicators, including protection of ecosystems and biodiversity, strict control of antibiotic use, reduction of pesticide and chemical use, implementation of efficient resource and energy management systems, promotion of responsible feed sourcing, and a strong focus on community and social responsibility.
Large yellow croaker is one of the most popular marine finfish in China and is often eaten as a key part of celebratory meals and during holidays. It also has a long history in the Chinese diet and records date back to 400 BC on its early consumption. Around 180,000 tonnes of large yellow croaker are consumed annually.
Chris Ninnes, CEO at ASC said: "The certification of the first smart aquaculture ship reflects the substantial efforts made by Qingdao Conson Blue Silicon Valley Development Co., towards a more sustainable farming of large yellow croaker. We would like to congratulate all those involved with the management and operation of the Conson No. 1 for their commitment towards responsible aquaculture and for its dedication and efforts towards innovative fish farming and technology."
Dong Shaoguang, Deputy General Manager of Conson Group, said "ASC certification is the gold standard for sustainable development of the aquaculture industry. It is recognised globally by sustainability-minded consumers and is also the screening basis for procurement conditions of sustainable seafood for the majority of China's high-end supermarkets and starred hotel chains.
"ASC certification of the large yellow croaker from the Conson No.1 aquaculture ship proves that the practices and objectives of China's aquaculture industry and market in the field of sustainable development are in line with the consensus direction of the international community."