China role for BioMar's Niels Alsted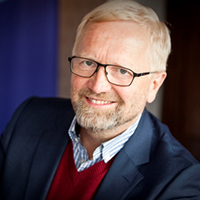 DANISH feed group BioMar has appointed Niels Alsted as the first vice-president of its new Asian operation, following the recent joint venture agreement with Tongwei.
Carlos Diaz, CEO of the BioMar Group, said it was a great pleasure to be able to assign one of BioMar's most experienced and respected people for the important new role.
'Niels Alsted will be responsible for building up the new Chinese joint venture together with Tongwei, ensuring that we within a short time frame will be able to supply the Chinese market with high quality feed to the growing production of high value species,' said Diaz.
Alsted will relocate to China before the end of the year, although he is already engaged in setting up the new business unit.
'I am sure Niels Alsted will be a very strong asset for our expansion in Asia,' said Diaz.
'Under his leadership we can build a very strong team in China with a combination of experienced BioMar staff and local Chinese capabilities.
Alsted has worked with BioMar since 1987, during which time he has had a broad range of responsibilities in different positions within R&D, business development, and sourcing as part of the top management of the BioMar Group.
Most recently he held the title of vice-president of sourcing and business relations, but he started out in R&D. He has a master in fisheries science and a commercial PhD in fish nutrition.
'Niels Alsted has during the last three decades been one of the most important persons in the process of continuously driving the development of BioMar's feed programme towards new and higher standards, both in terms of feed performance and environmental sustainability,' said Diaz.
'This tremendous knowledge base Niels will now bring to our Chinese joint venture.
Improving food safety standards, environmental performance, and working towards increased sustainability of the aquaculture industry have been focal points in Alsted's career to date.
He is a member of the board of the IFFO RS and in the steering committee of the Aquaculture Stewardship Council, and through various other organisational bodies he is involved in the dialogue between the aquaculture industry, authorities and NGOs.
Alsted, 61, is married, and has four grown-up children. His Norwegian born wife Sølvi has a masters in organic chemistry and a PhD in food science and was for several years quality manager for BioMar's Danish factory before she joined Bureau Veritas as an auditor.
She will now rejoin the BioMar Group, when she relocates to China with her husband, and will take charge of establishing food safety and quality assurance procedures in the new joint venture.