Cermaq trials semi-closed system in Canada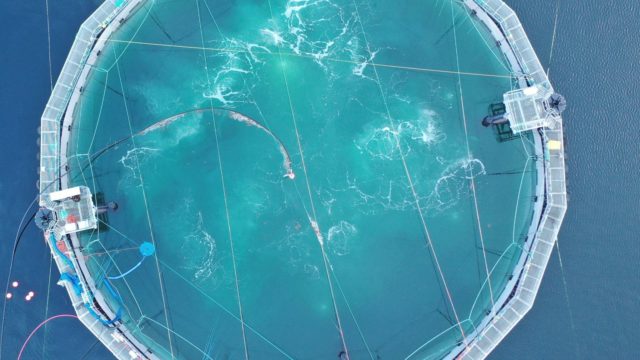 Cermaq Canada has started the trial for its new Semi-Closed Containment System (SCCS) in British Columbian waters. The new system, based at Cermaq's Millar Channel farm site, has been successfully stocked with smolts, the company says.
The system uses a patented material to form a barrier around the system, which eliminates lateral interaction between wild and farmed salmon, while providing additional benefits for the farmed populations. The SCCS trial is the first of its kind in Canada, but the system has been successfully trialled in Norwegian waters by Cermaq Norway.
David Kiemele, managing director, Cermaq Canada, said: "We are excited about the start of the trial for several reasons. The first is the potential benefits for salmon, as trials in Norway have shown us that the system essentially eliminates the transfer of lice from wild salmon to our farmed populations. We are also excited to see how the farmed populations perform in the system in Canadian waters. In Norway, we have seen our fish grow faster and have better overall performance."
The performance of fish within the system will be compared to control groups of fish which have been stocked in the adjacent, traditional pen system.
Brock Thomson, innovation director, Cermaq Canada and project director for the SCCS trial, said: "We know the system is performing well in Norwegian waters, but we need to see how it performs in Pacific waters. Our waters are different for several reasons – including differing biodiversity, warmer temperatures and varying biophysical properties. We also have different fish welfare concerns – many of which we are hopeful the system will help to mitigate. The system has been adapted to our local waters by using four deep-water intakes to draw water into the system from depths between 22 and 27 metres. The hope is that this will potentially eliminate harmful algae and sea lice from entering the system. Overall, this technology gives us a greater ability to control water quality within the system."
The trial will run until the summer of 2022, when fish are harvested from the site. Cermaq Canada will also be transferring fish from the SCCS at two pre-determined growth targets into the adjacent traditional net-pen system to test performance and influence of the system.