Cermaq reins back investment despite high profits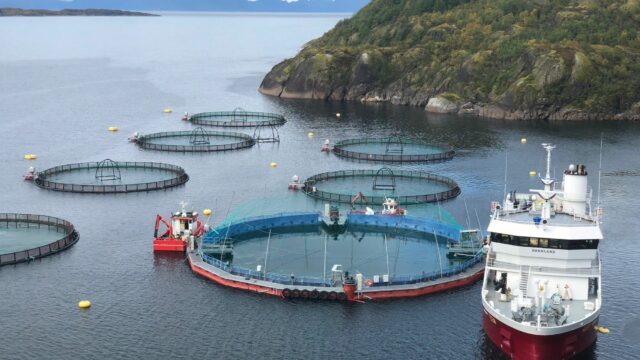 The Norwegian arm of the salmon farming giant Cermaq has unveiled "good results" for last year, but says it is freezing investment worth NOK 400 million (£33m) and, with it, 300 new jobs in northern Norway.
Mitsubishi-owned Cermaq Norway reported profits of NOK 1.7 billion (£143m) for 2021. The company said part of that surplus would have been used for investment at various locations in Nordland, but in an obvious swipe at Norway's ground rent tax plan it said that with so much uncertainty around, it cannot go ahead with that ambition.
Managing director Knut Ellekjær said: "2021 was a good year both operationally and market-wise with high demand and high prices after the pandemic. We also had little sickness and incidents throughout the year. Without our 600 skilled salmon farmers throughout the value chain, we would never have been able to deliver such results of a turnover of just under NOK 6 billion."
He said, however, that he was worried about the future of Norwegian farming, growth and jobs.
Since 2015, Cermaq has invested over NOK 5bn in Norway in hatcheries, slaughterhouses, fleets, boats and new technology for more sustainable operations. This had created 212 new Cermaq jobs in Nordland and Finnmark, but the figure was even higher if stated as "man years".
Ellekjær continued: "We did not buy new licences in the auction in October due to the unpredictability of framework conditions. We were to invest another NOK 4bn in post-smolt facilities in Hasvik, expansion of the slaughterhouse in Hammerfest and operating investments in Nordland.
"However, the proposal for a new tax model has put an end to that and with it 300 new jobs in northern Norway. The activity along the coast stops and it is already affecting ordinary people and local communities.
He concluded: "Cermaq is positive about contributing, but it is crucial that the new tax regime does not weaken the industry's competitiveness. The Labour Party's goal is to double value creation in aquaculture by 2030, but this proposal does not do that.
"We lack a clear industrial policy direction and predictable framework conditions that provide basis for investment and jobs in District Norway."