Catamaran workboat delivered to Arctic Fish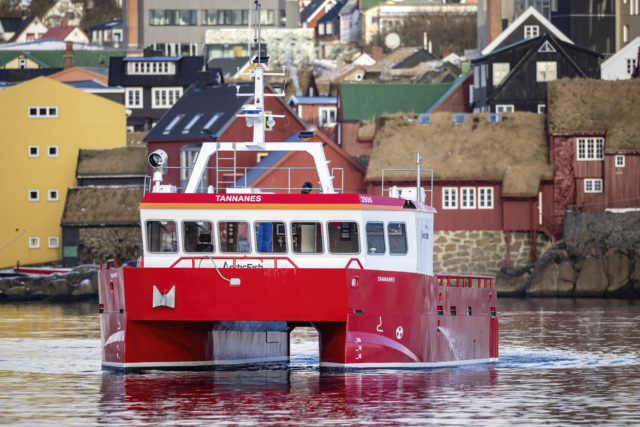 Icelandic salmon farmer Arctic Fish has taken delivery of its first workboat from Faroese boatbuilder KJ. The vessel, Tannanes, is a KJ 1500-800 model and will be located on the Westfjords of Iceland.
Tannanes is the sixth catamaran bult by KJ for an Icelandic customer. It is fitted with two Iveco Cursor C9-380 marine engines, a Palfinger PK50002 crane, a soundproof 115 kWa generator, two 1.2 tonne capstans, a three tonne capstan and a 15 tonne hydraulic winch.
Ólavur Asafsson Olsen, managing director and CEO of KJ, said "From day one, our catamarans have been very popular in the Faroese fish farming industry. Now, we are building catamaran number 59.
"Most of our catamarans have been sold to fish farmers in the Faroe Islands, but the good reputation of the Faroese salmon industry has inspired fish farmers from abroad to take a good look at boats and other equipment used by the Faroese industry. As a result, we have exported 20% of our work boats to Orkney, Shetland and Iceland, respectively."
Arctic Fish is one of Iceland's bigger salmon oroducers, and is 50% owned by Norway Royal Salmon. Last month Arctic Fish confirmed that it is looking to list on Oslo's Euronext stock market around Easter time.