Campaigners seek to overturn Orkney planning decision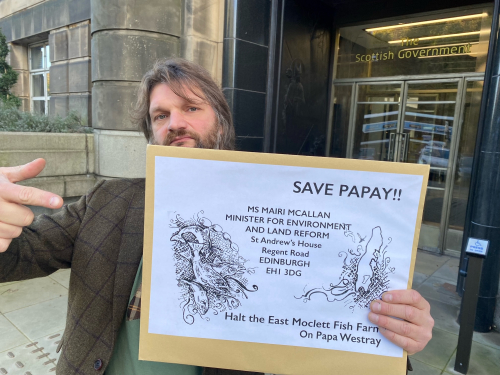 Anti-fish farming campaigners are set to appeal formally against the decision by Orkney Islands Council to approve a new fish farm in the waters off East Moclett, on the island of Papa Westray.
On 8 September the council gave the green light to an application by Cooke Aquaculture Scotland for a six-cage farm with a biomass of 3,850 tonnes. Cooke had presented an analysis showing the economic benefits of fish farming in Orkney, and regulators including Marine Scotland, the Scottish Environment Protection Agency (SEPA) and NatureScot had voiced no objections to the plan.
The group set up to object to the proposal – formerly known as No East Moclett but now called Save Papay! – has written to Mairi McAllan, Minister for Environment, Biodiversity and Land Reform in the Scottish Government expressing "astonishment" at the decision.
Save Papay! is also calling not only for the East Moclett decision to be reversed, but also for a complete moratorium on fish farming applications in Scotland until further research is carried out to assess the environmental sustainability of the sector's growth.
The letter to Mairi McAllan cites a report by the Scottish Parliament's Environment, Climate Change and Land Reform Committee (ECCLRC) (January 2018) which had expressed concerns about potential impacts from the growth of aquaculture and called for further data.
The campaign group also argues that the Pentland Firth and Orkney Waters Marine Spatial Plan (PFOWMP), which covers much of the Orkney archipelago, should be extended to islands in the north east including Westray and Papa Westray.
The letter concludes: "Economic development must not come at the long-term detriment of our community, who have already welcomed more than our share of industrial fish farming. As islanders, we feel we are custodians of Papa Westray's future where population has been in decline for many years. We know that further expansion of fish farming will destroy our way of life and our deep sense of place and purpose."
The group is currently taking legal advice on appealing against the planning decision.
Joel Richardson, Vice-President, Public Relations with Cooke Aquaculture, noted in response that the Planning Committee had accepted and agreed unanimously that the proposed salmon farm had been rigorously assessed by the SEPA, which raised no issues or objections to the site.
He added: "The fish farm was also assessed and approved unanimously against all relevant policies of the Orkney Local Development Plan and other relevant material planning considerations. The Orkney Islands Council agreed unanimously with their planning staff, who concluded that on balance the objections raised by various parties were not of sufficient weight to merit refusal.
"We have heard very valid points raised by the Papa Westray Community Council and Papa Westray residents, and we will continue dialogue with them and ensure that this new farm site is compliant with all appropriate regulations and best practices. As one of the largest employers in Orkney and Northern Isles, Cooke Aquaculture Scotland will maximize economic and social benefits."
This story was updated 4.42pm, 7 November