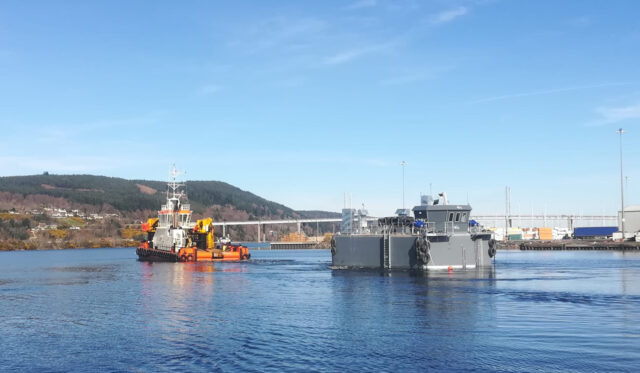 Ahead of Aquaculture UK, Gael Force offers an exclusive preview into its latest range of SeaFeed concrete barges with enhanced safety features and hybridisation options
It was during a recent weekend in March that Scottish supply partner Gael Force reached a significant milestone – the simultaneous launch of two feeding barges on either side of the Atlantic, in Scotland and Canada, and the remarkable achievement of a landmark 100 completed concrete feed barge builds.
In lockstep with the advancements in fish husbandry over those many years, a great deal has changed in the design and manufacture of barges at Gael Force. Designing and building to the principles of NS9415 is the norm for the company's well-established and highly skilled in-house team. Evolving over the years, Gael Force feeding barges remain a highly reliable and stable platform of choice for farmers across many sites in Scotland.
This year, however, the supply partner is implementing a range of 2022 Sea Safe features and improvements, the most significant to date, on its modernised fleet of Scottish built SeaFeed Concrete Barges. These are set to be fully revealed at Aquaculture UK this May.
Enhanced safety features
Across the SeaFeed concrete barge range, comprising models 150t, 200t and 350t feed load capacities, the barges' freeboards are designed to be significantly greater than the requirement as set out in the NS9415 standards for Hs 5-6 rating. For example, the 200t has had its freeboard massively increased from previous models – more than two metres when fully loaded. Load line markings clearly marked on the barge hull indicate light loading and full loading levels to the operator.
In addition to existing automated bilge alarm systems, a smart new hatch alarm system connected to all external hatches, doors, or openings is integrated across the new range. If any hatches are left open, the alarm system will notify the operator with a combination of audible and visual alerts. This is reinforced with a distinguishable flashing light installed on top of the wheelhouse which will signal when triggered by an open hatch. Barge operators will not be able to leave the barge without knowing that a hatch or opening has not been closed correctly.
Furthermore, Gael Force has introduced robust DNV-compliant watertight doors in the lower areas of the barge to increase segregation between rooms.
And, in response to customer feedback, all new barge designs feature a new heat venting arrangement. Any heat generated from plant inside the lower levels of the barge is now vented directly outside, thus removing any source of heat build-up. As a result, the internals of the barge are kept close to ambient seawater temperature. This benefits the plant on board and ensures that feed retains its quality in the best available environment.
With every feed barge delivery, whether it be concrete, or steel built, the team at Gael Force work with their customers to provide the most appropriate and up-to-date barge owner manuals and operator training programmes to encourage and support safe barge handling.
Hybridisation
In a first for Gael Force, the most recent 200t concrete feed barge delivered in Scotland was fully hybridised using Fjord Maritime's Hybrid system. All the systems on that barge will operate from the power supplied from the batteries on board, with the generator only activating on occasions required to recharge the batteries.
Gael Force Production Director, Stephen Offord explained: "Understandably we are seeing increased demand for hybrid power systems in feed barges, so we are delighted to be able to offer a solution as an option should our customers require it – either on new builds or retrofitted on existing barges, for which, given the current financial and environmental cost of fuel, we expect to see a significant demand."
Using Fjord Hybrid, fish farms can run their generators for as little as three hours per day, instead of 24 hours, which is the current norm. This can cut greenhouse gas emissions by up to 90 per cent compared with traditional operations.
Moreover, Fjord Maritime has reported that the reduced running time can extend the lifetime of fish farm power supply systems by up to 60%.
With the Fjord Hybrid system, millions of data points are recorded each day from the barge which is then converted into easily understood information. The information can help with the optimisation of energy consumption which can then lead to a better cost of production per kilo of fish.
Because of its modular design, Stephen Offord says that retrofitting existing Gael Force barges is a straightforward process for their team: "All four modules are far smaller than the generator you would otherwise install in its place, so with our know-how and understanding of the system, installation onto an existing barge is something that our team can carry out very easily."
Over 100 of these hybrid systems have already been installed across Norwegian fish farms, however, this recent installation was the first to occur in the UK.
"We have had great support from Fjord Maritime during the design and installation process, with any questions answered promptly and with clarity. Our team are fully trained on all aspects of the system installation, while we also have backup support from the manufacturer should it be required."
Building stronger
These latest feature updates continue to show that Gael Force Group is highly motivated to support its customers in their aims for improved safety, security, and sustainability, all of which count towards the growth of a healthy, nutritious, and superior class of seafood.
Gael Force Group is exhibiting 3-5 May at Aquaculture UK. For a full programme of events, visit gaelforcegroup.com or follow our updates on LinkedIn.