Brussels show to move to Barcelona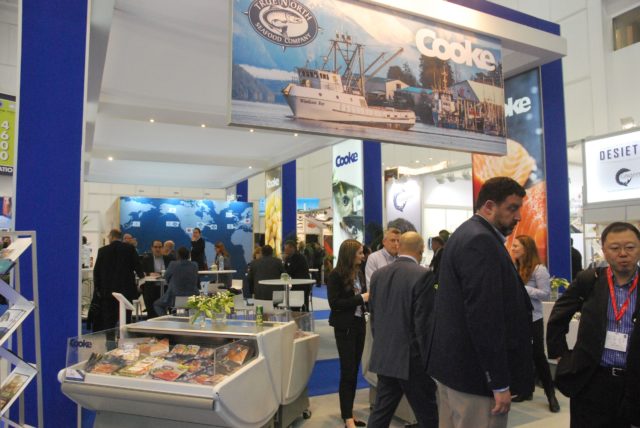 THE world's biggest seafood show, held in Brussels every spring, is to move to Barcelona in 2021, the organiser announced today.
Diversified Communications said the change of location after 28 years was because the show had outgrown its Belgian venue.
The decision was the result of extensive market research based on exhibitor and attendee feedback over the years and an evaluation of major destinations throughout Europe, said Diversified in a press release.
Barcelona's wealth of hotels will provide visitors and exhibitors with value for their investment, and the larger, modern venue will present long-term growth opportunities, the organiser added.
Seafood Expo Global has taken place in Brussels since 1993, and this year – at the later date of May 7-9 – it attracted a total of 29,288 buyers and suppliers, with more than 2,000 exhibiting companies, making it the largest and most successful event in the expo's history.
Diversified is working to ensure that the transition to Barcelona in 2021 'prioritises visitor and exhibitor comfort', said Mary Larkin, president of Diversified Communications' US operating division.
The event is scheduled to take place from April 27-29 at the Fira de Barcelona, Gran Via, described by Diversified as 'one of the largest and most innovative venues in Europe'.
'The location of our event contributes to our customers' overall experience,' said Larkin.
'The Brussels Expo and the city of Brussels were great partners to launch and grow this event, and we appreciate the services and support they provided over the years.
'Moving the event to a larger city and venue, with opportunity for long term growth, is a necessary evolution. It will enhance the visitor experience and the business being done between buyers and sellers.'
The venue features 200,000 square meters of floor space, eight exhibit halls, more than 40 restaurants, and is accessible using the city's mass transit system, she added.
Liz Plizga, group vice president of Diversified Communications, said: 'Barcelona is an international destination and major seafood hub in Europe, which makes it the perfect location to hold a global event like Seafood Expo Global/Seafood Processing Global.'
Diversifed is now liaising with accommodations company B-Network and has secured a hotel room block.
'We strongly encourage exhibitors and attendees to book through the show block for the best rates in the city,' Larkin said.
Meanwhile, the 2020 show will take place from April 21-23 at the Brussels Expo, as usual.